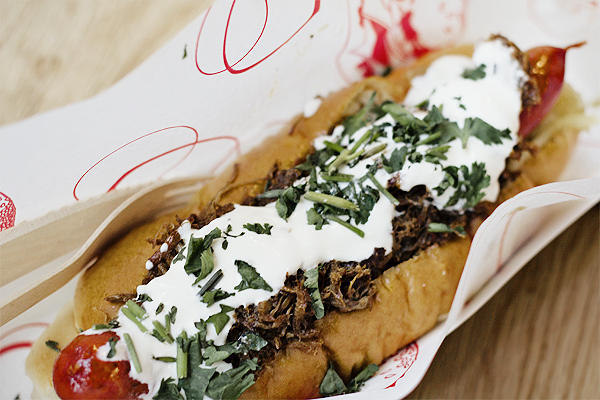 After last month's curryfest, I was more than excited to get a few new dudes (and their accompanying food trucks) in at Trinity Kitchen.
I could not be more pleased with the line-up: from left to right, Trinity has set up shop for The Cheese Truck (fully reviewed in the following post), Pemberman's, Dogtown London, The Marvellous Tea Shed, and Mei Mei.
Though I have heard far too much about Dogtown to head anywhere else for my first dinner (of the month…week, let's be honest), each trader had an item or two that tempted me to reconsider.
Of course, I couldn't stray from Dogtown's so-called 'pedigree' hotdogs (they even offer vegan dogs!). It took me a few more minutes to order in comparison the Manfriend as I felt spoilt for choice, but I ended up biting the biggest bullet and ordering the Chilli-Cheese Dog. While Mr. Plain Hotdog poured a good slop of their of home-made chipotle sauce on top of his meat, I watched Dogtown carefully prepare the beef and bone marrow chilli, sour cream, and fresh coriander over my own 'Dog'.
While mine tasted as good as it looks (aka #FOODPORN), the Manfriend's tasted infinitely better than its crime-scene appearance. The chipotle sauce seemed slightly smoked, slightly chillied, and ended up being the unassuming power player of Dogtown's set-up.
Later in the evening some new friends crooned over the Char Siu goodness of Mei Mei's Jian Bing wraps, but – as you'll see in my next blog – there was absolutely zero room left for a sneaky taste.
Until next time…