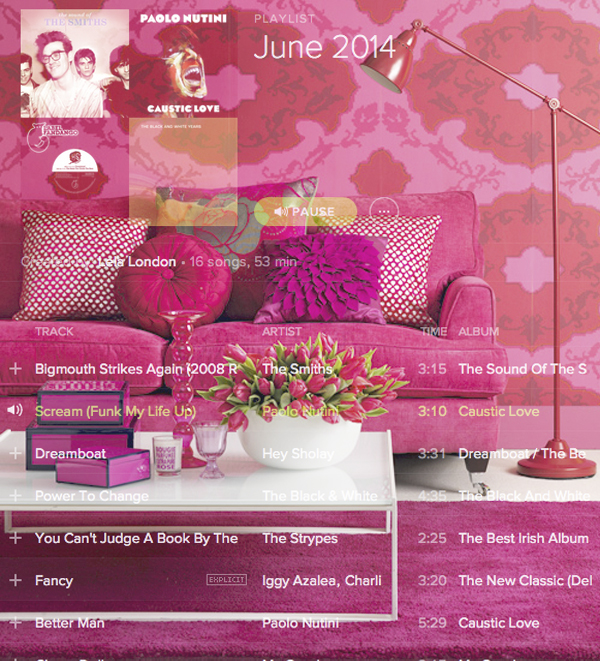 Just one month ago, June was set to be one the most chilled out months of my year (holidays and festivals, huzzah!). Natch, things weren't going to stay that way. Entrepreneurs and relaxation…oil and water. With 1000 new clients and an entire conference to spearhead over the next 30 days, June has turned into one of the most manic months of my entire life.
Obviously, this month's free Spotify playlist started its life as a collection of 'Eye of The Tiger' club mixes (motivation music of the highest order). I have since come to my senses and compiled a list of wonderful, happy Summertime sounds.
Which I sometimes swap for aforementioned club mixes. Enjoy.
(Need to catch up on last month's? Click here for May's free Spotify playlist.)
(Download Spotify here. It's free!)
Track listing:
Bigmouth Strikes Again by The Smiths
Scream (Funk My Life Up) by Paolo Nutini
Dreamboat by Hey Sholay
Power To Change by The Black & White
You Can't Judge A Book By The Cover by The Strypes
Fancy by Iggy Azalea and Charli XCX
Better Man by Paolo Nutini
C'mon Doll by My Goodness
Them Kids by Sam Roberts Band
Gonna Make My Own Money by Deap Vally
Black Bowl Park by Three Blind Wolves
Waves by Mr. Probz
Relief by Cold War Kids
Troubled So Hard by Paolo Nutini
OK, It's Alright With Me by Eric Hutchinson
This Is How We Do by Katy Perry