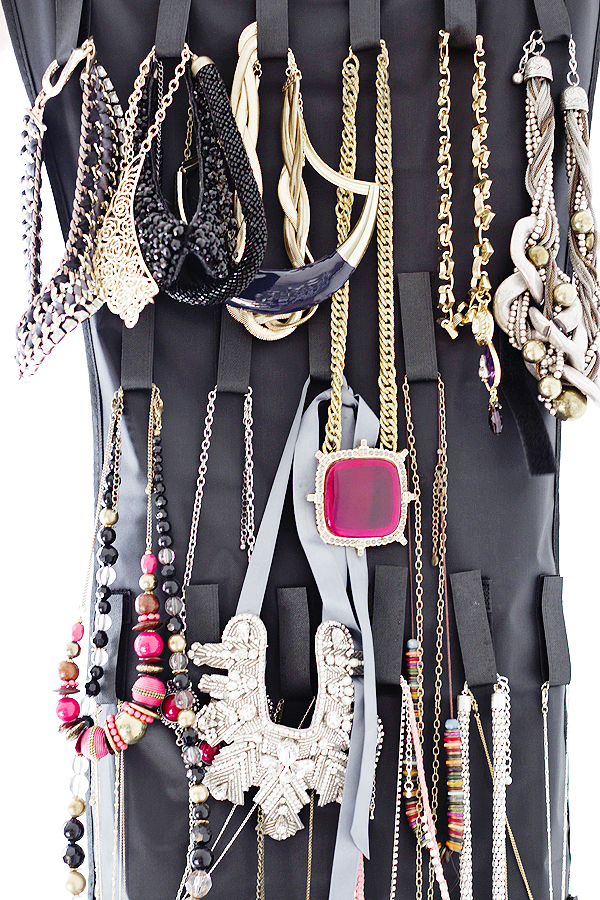 With The Manfriend and I's recent move to Leeds city centre throwing up a lot of design/space questions, we decided to conduct a pretty major rehaul of all our worldly possessions. While big ticket items were destined to wreak havoc on our joint account, some of the smaller 'bits and bobs' have been the most fun to purchase.
Over the coming weeks, I will show you more and more of our home as it all comes together (ending in a full house tour!). For now? Two very essential (and ingenious) gadgets from Lakeland:
Little Black Dress jewellery organiser –
I have a decent amount of jewellery but have never invested in any real way to display or store it. This storage solution – what is essentially a black dress hung on a hanger – has been the greatest thing to happen to my closet in a long time. With twenty-four hook and loop tabs on one side and thirty-nine clear pockets on the other, my necklaces, rings, earrings, bracelets, and small accessories all have a very accessible place to live.
The Style Station –
This one, believe it or not, has proven most useful for The Manfriend. 'The Style Station' is a veritable parking station for items that are too hot to pack away, ie. hairdryers, curling tongs, and straighteners. As I tend to let my hair air dry, the real benefit for me has been that my stolen hair tools (The Manfriend lusts for my ghd hairdryer) are all kept in a tidy, safe place. With a cord storage pocket and the ability to hang the Station or use it freestanding, it is remarkably easy to keep things neat.