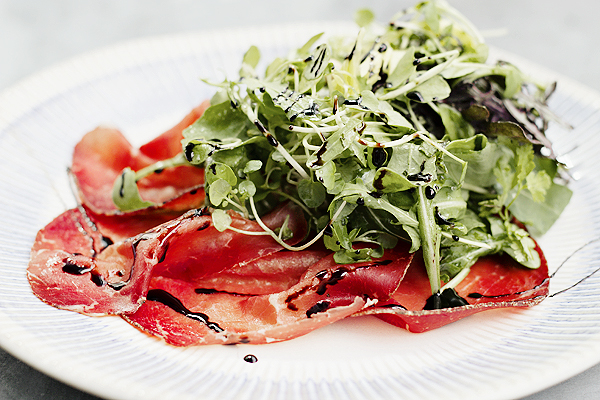 I had one million misconceptions about Jamie's Italian before I ever set foot in one.
Celebrity chef? Probably has nothing to do with it. Prices? Obviously +£10 per dish to cover the celebrity status. Chain restaurant? I can't even.
I am very happy. I was very wrong.
Last weekend, The Manfriend and I rocked up for lunch after a particularly heavy night with Katy Perry (see previous post). Drowning in the warmth of the sun next to the Westfield Stratford branch's open terrace – and their at-window-serving hog roast! – I coukd not feel any further from my preconceived idea of 'bland chain eats'.
After ordering a few non-alcoholic cocktails (I do not believe in hair of the dog), we perused the menu with delight.
There was FOOD. Real, fresh FOOD. Food-I-would-serve-at-a-dinner-party-if-I-was-an-Italian-model-goddess FOOD!
It took no time at all to decide on starters. With a penchant for great ingredients, I thought I'd test the water with a small Bresaola salad (which came with artichokes, rocket, crumbled Colwick cheese, toasted almonds and aged balsamic) while my very hungry Manfriend dove headfirst into a plate of Crab and Avocado bruschetta (mixed with apple, chilli, mint and lemon).
It also took no time to lick the plates clean.
When our mains arrived, we were entranced. Yet, while staring wide-eyed at enormous plates stacked with feather blade flash steak and crispy soft shell crab was entertaining, our appetites eventually got the better of us. His dry aged British beef – after being pounded with prosciutto and sage – sat nestled under a heritage tomato and basil salsa while my own beast, the buttermilk-fried crab, disintegrated by the forkful. If I could recommend one dish and one dish only, the crab would take the cake. The dish's plate partners (a chilli, fennel and sea lettuce salad with smashed avocado and yuzu lime salsa) were exceptional.
(As photo evidence proves, we ordered Polenta chips with rosemary salt & Parmesan and 'Posh Chips' with truffle oil & Parmesan before realising quite how large our portions would be. We did not finish them. Not for lack of trying.)
Nailing the final buckle in the belt loop, we wrapped things up with a few bites of raspberry and chocolate-rippled pavlova and Amalfi lemon meringue cheesecake.
Oh, how I wish 'doggy bags' were a thing in the U.K. That cheesecake could have fed our household for days.
I wouldn't even be sick of it.
The best part? Three enormous courses – plus mocktails – for two still comes in at under £100. And I would order everything again.
Please accept my apologies, Jamie O. You've done this judgemental foodie proud.