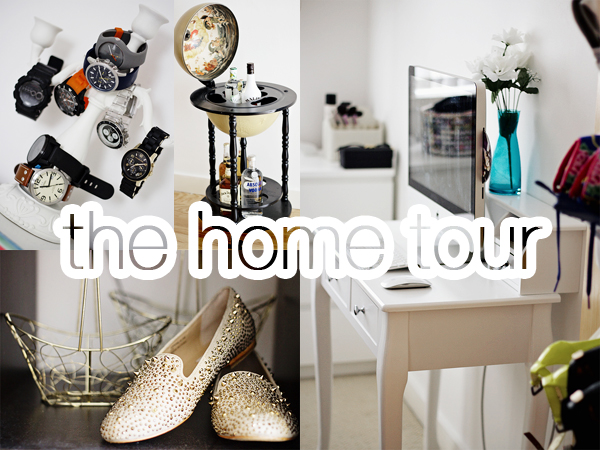 Welcome to my home tour (if we weren't chatting through a screen, I would offer you a drink).
To set the scene: The Manfriend and I moved in roughly two months ago. Moving out of a rather enormous house and into a two bedroom apartment meant we came up against a few space issues, but I am altogether incredibly happy with the way our small time interior design projects and investments have come together.
It is not my dream home – far from it – but it is amazing value for renting in the centre of Leeds and a stone's throw from the station, which means easy commutes to and from London while working in dual cities.
Let's take you around…

Home Tour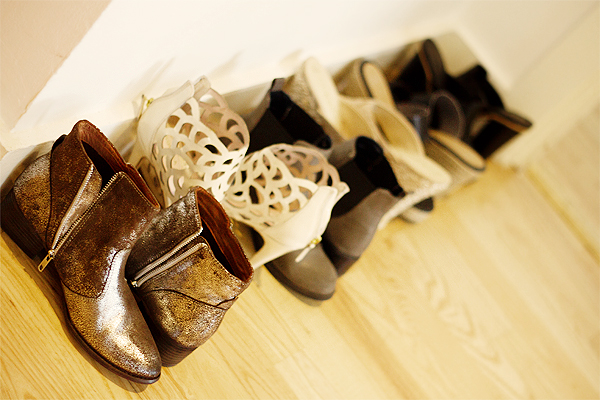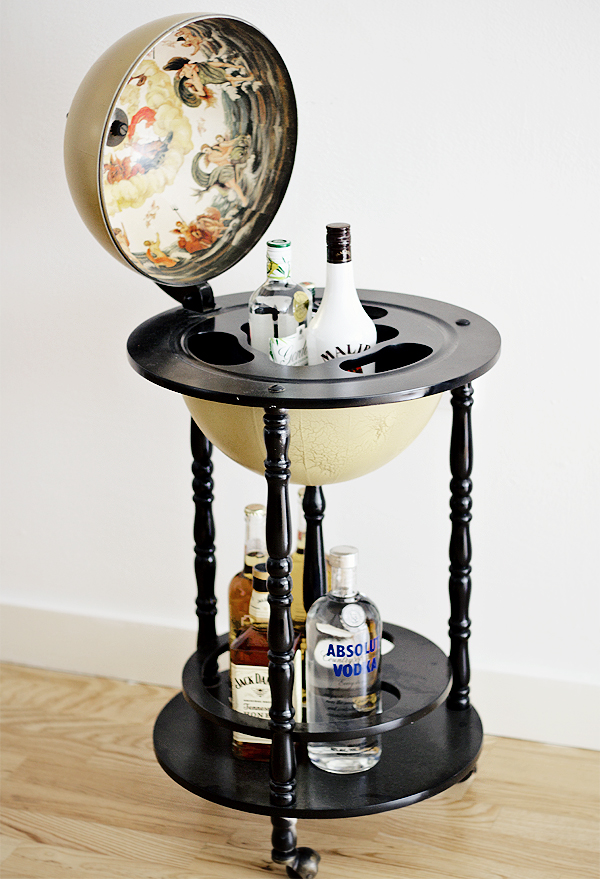 From the front door, the hall (and go-to shoe section) winds around into an open plan dining area, kitchen and living room. Upon entering, you are greeted by our makeshift wall clock and – my pride and joy – the DIY globe bar cart.
Before moving in, we agreed to have the colour scheme to be based around white, black, and gold for this room. Clean, chic, simple. Shortly thereafter, I stumbled across a 'heavily loved' (aka silver-painted) bar cart on eBay, and knew a lick of gold spray paint (while maintaining the original map on the inside) would make it the perfect centrepiece.
Dining Area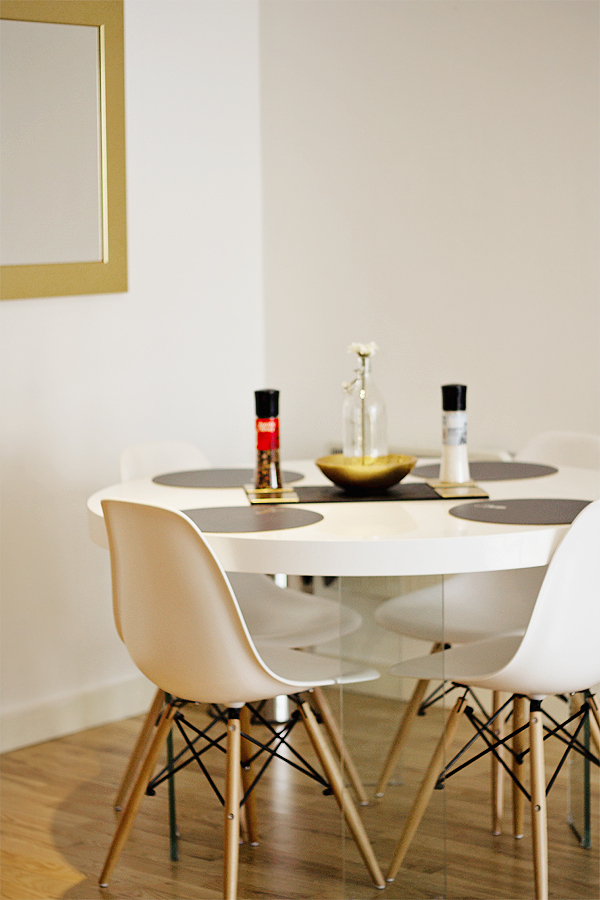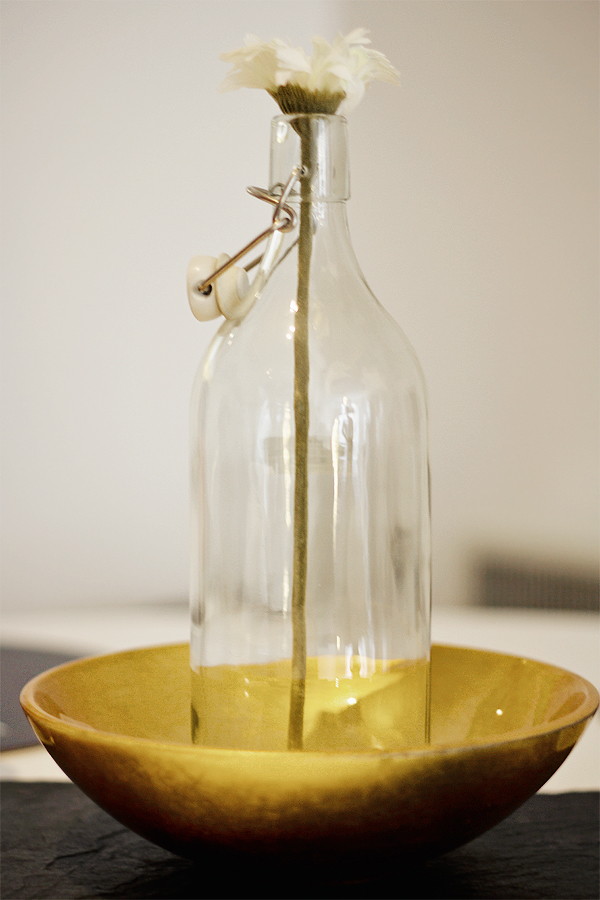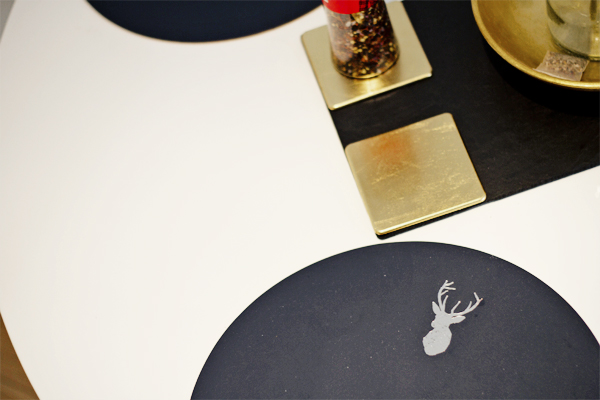 To the left, the dining area features a large gold mirror (which reflects the light from the opposite window and opens up the room) and our table and chairs. The table was an epic wholesale find and reduced by over £500; it is extremely heavy but the glass legs create a 'floating' effect which makes the entire area feel much larger. The chairs were bought seperately (we wanted to incorporate wood to stop it from feeling too formal for everyday meals) and, weirdly, we recently discovered the same chairs in a local Pizza Express.
As far as features go, I always keep a single flower in a milk bottle and a partially set table with things like coasters and bowls arranged around our slate slab (a must for antipasti and cheese lovers). As well as saving space, I think it adds a bit of character and texture to the area.
Living Room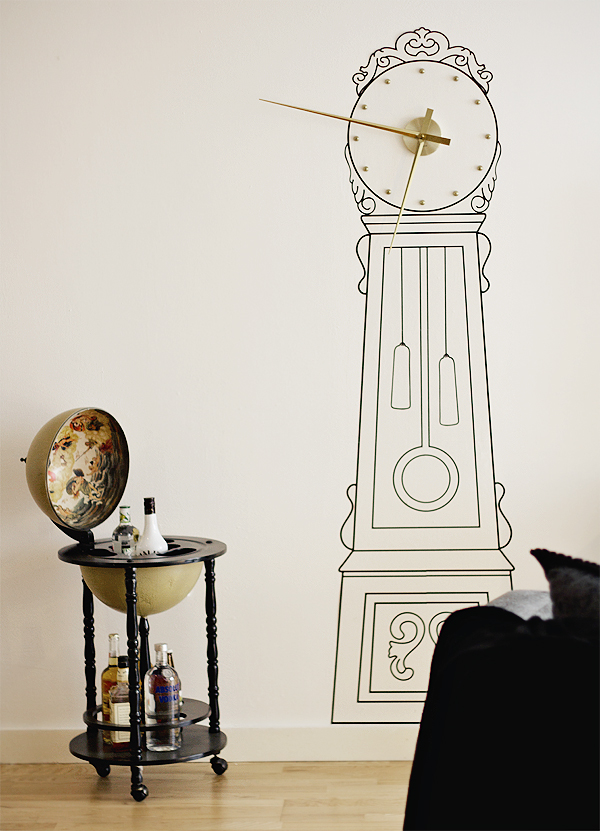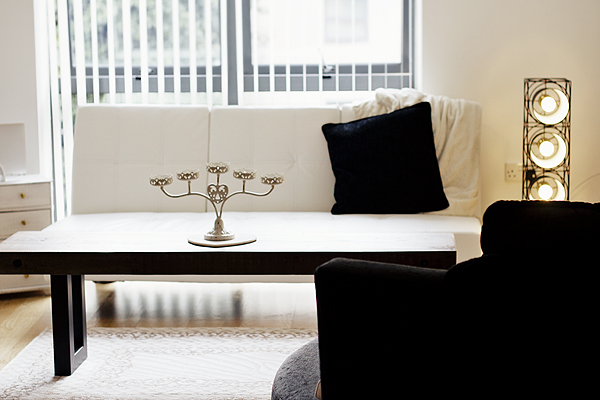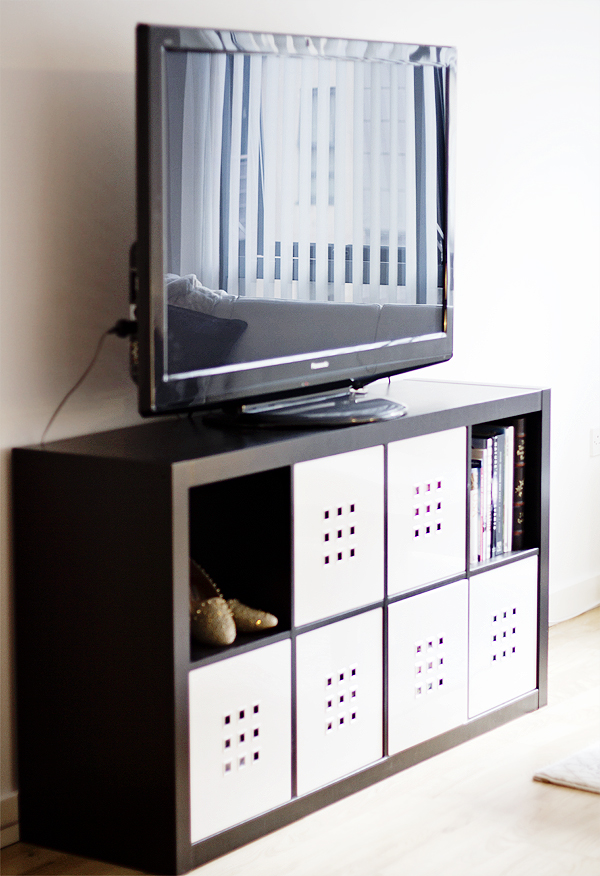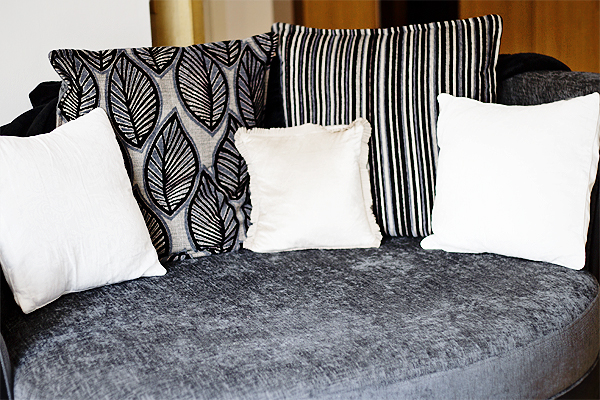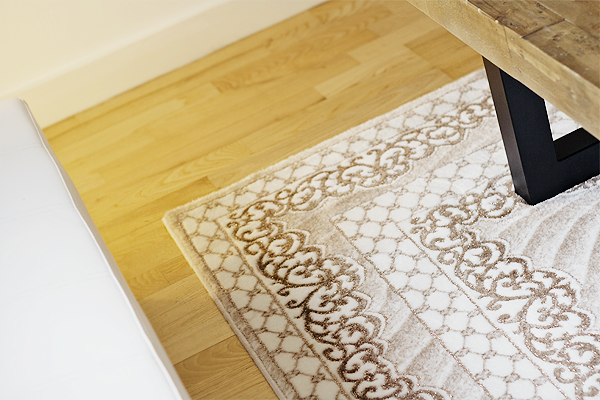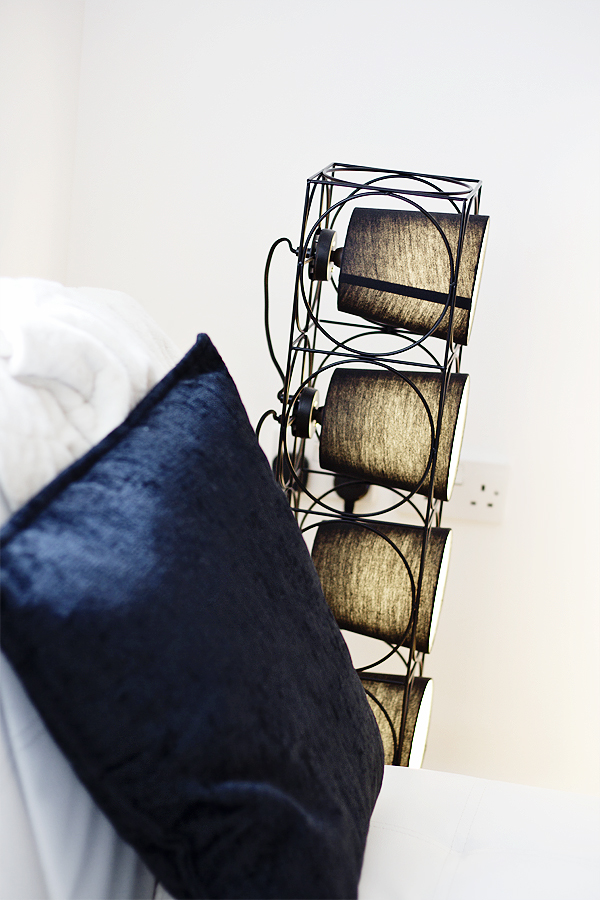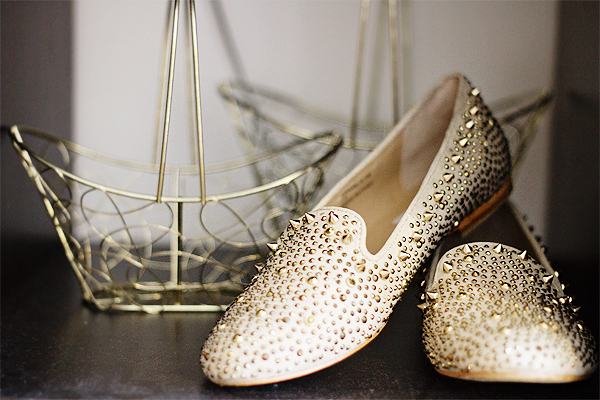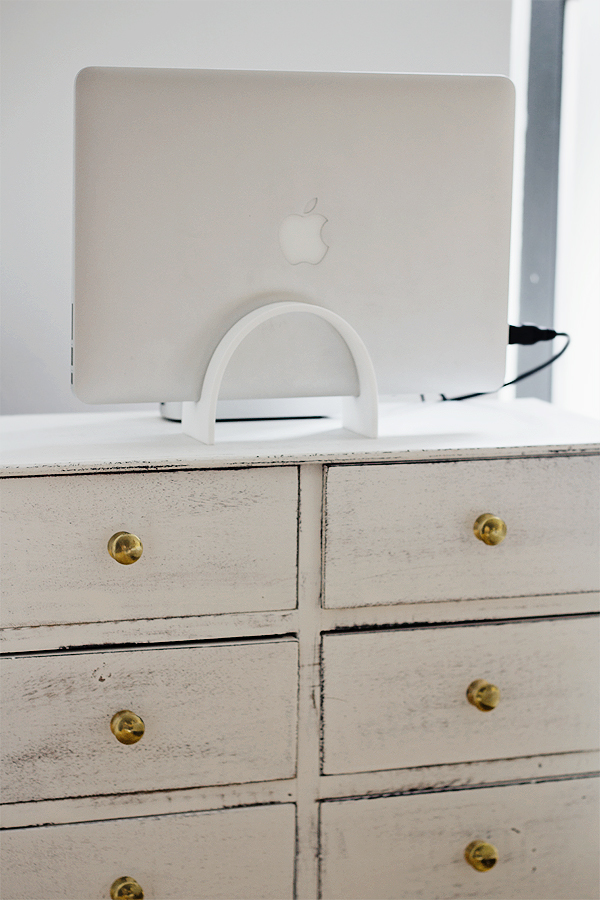 On the other side of the space, we have the living room. In the centre, you'll see an epic gold patterned rug that The Manfriend hated until it saw it with everything else in the room. There is thin gold threading in the wisps of the design which looks fantastic when the sun fills the room.
We decided to invest in a reclaimed wood coffee table. After searching for quite some time, the choice was between this lovely long table or a reclaimed wood storage boat. I was sold on the boat (because I think I'm a mermaid), but was quickly un-convinced by remembering I had a candelabra to put somewhere. Candelabra on some gorgeous wood? Bangin'. Candelabra on a boat? Overkill.
Against the far wall and window there is a white leather sofabed, a cashmere blanket, a row of 'Hollywood lights', and a set of eight small shabby chic drawers which houses The Manfriend's laptop and our media server (for Plex).
Next to the drawers we have a very large TV atop some ugly but essential Ikea storage boxes. Until I figure out a more attractive storage solution, I have left two storage holes open for a few books and my gold studded Steve Madden flats.
Our second seating option is the very first purchase we made together – a round sofa (The Cuddler) with built in speakers that has travelled up and down the UK more than it probably should have. I am wanting to re-upholster it to be completely black, or black with a patterned gold accent on the seat itself. For now, it is decorated with some gorgeous small pillows from House of Fraser and another cashmere blanket (I love to make my guests feel cosy).
Kitchen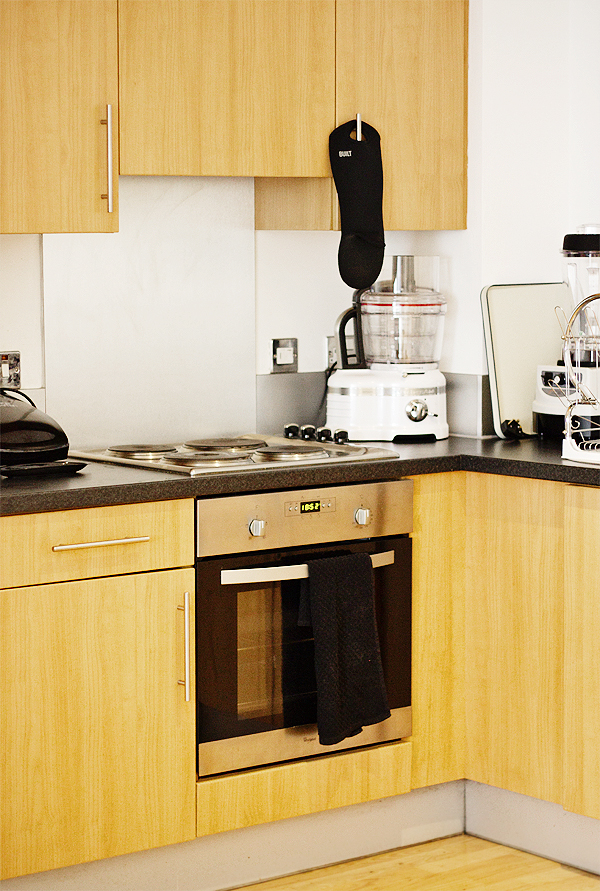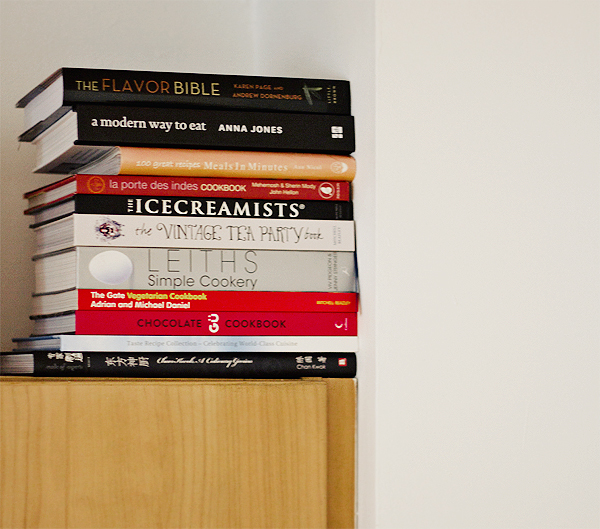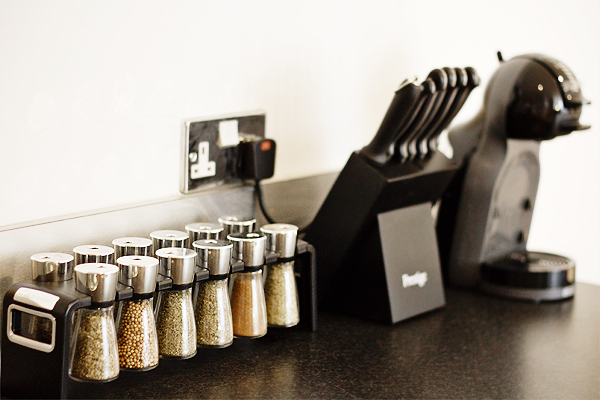 My least favourite area is the kitchen.. While we're renting, we have very little ability to alter much in the kitchen (bar some very lovely looking kitchen equipment, which will find its home in my eventual marble-covered Barbie Dreamhouse kitchen). For now, I just focus on keeping things clean and tidy. The Inkifis help a lot.
Books on The Cookbook Shelf:
The Flavor Bible
A Modern Way To Eat by Anna Jones
Meals In Minutes (orange)
La Porte Des Indes Cookbook
The Icecreamists
The Vintage Tea Party Book
Leith's Simple Cooking
The Gate Vegetarian Cookbook
Gu Chocolate Cookbook (kindly purchased for me by The Manfriend)
Taste Recipe Collection – Celebrating World Class Cuisine
Moving out of our open space and into the bedrooms, the only real similarities between the two are the shoe racks hanging on both of the doors…
Office/Closet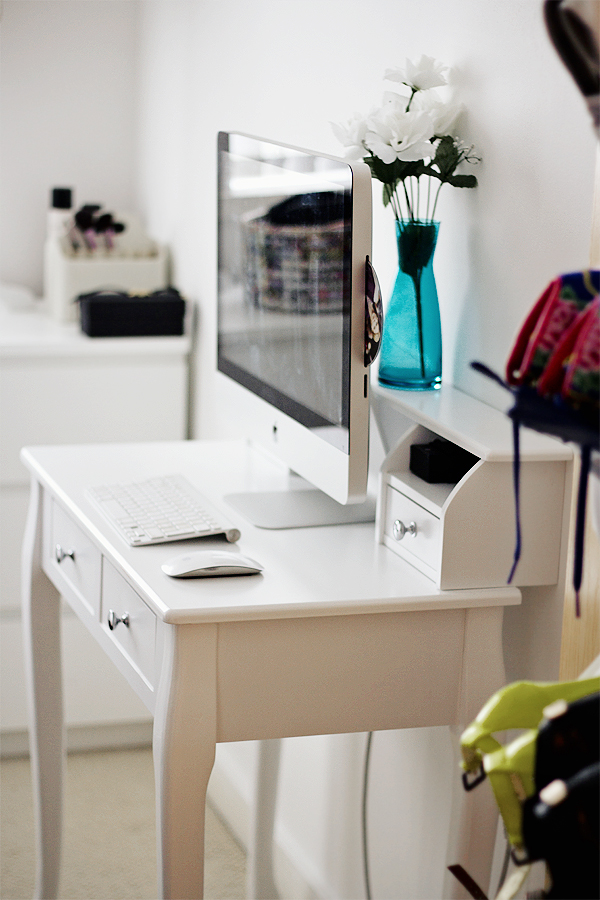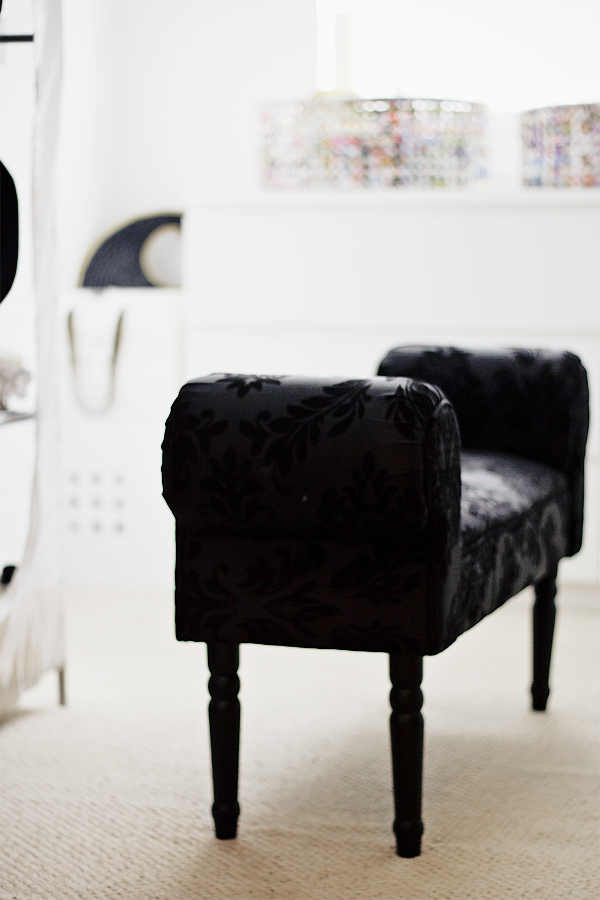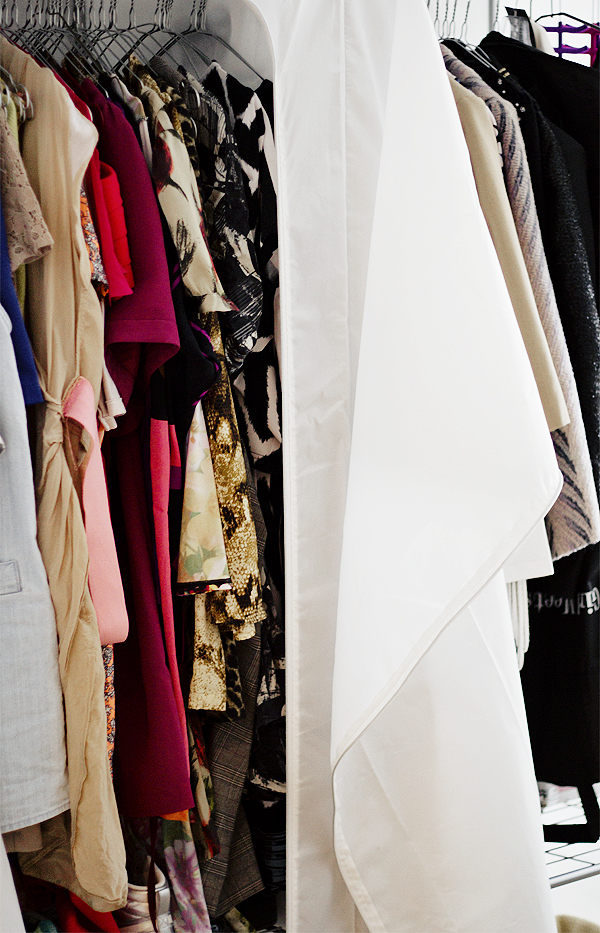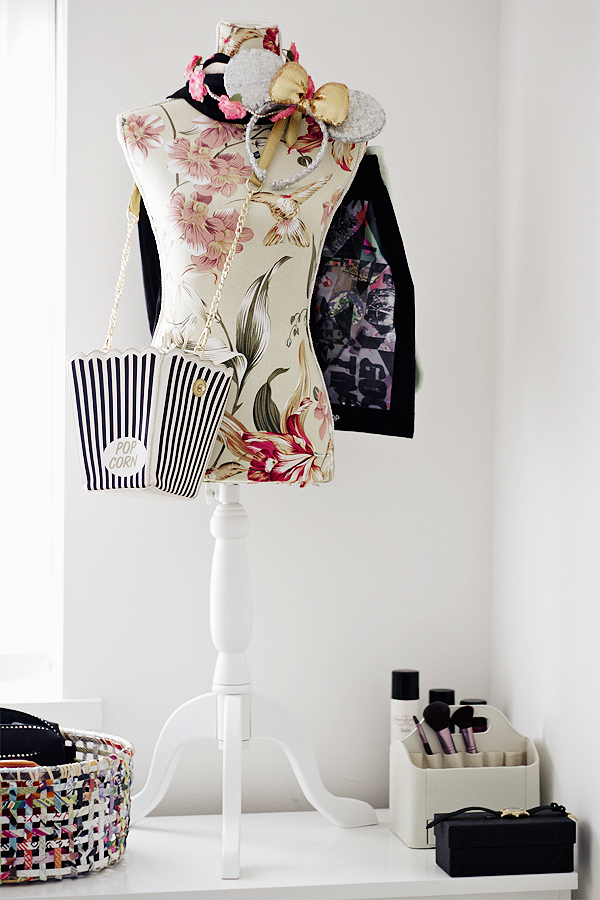 First up, my office/closet. In the spirit of MTV Cribs, this is where the magic happens.
As I spend quite a bit of time in my office, I wanted it to be as uncluttered and pretty as I possibly could. I ended up planning out quite a fresh take on vintage, being careful not to exploit the theme as I am highly motivated by a chic workplace.
To start, I hacked a vanity table into a desk and bought a chaise longue for my deskchair. I am posture mad and feel uncomfortable in traditional desk chairs, but I realise this isn't the case for everyone.
Behind the chaise, I have two white canvas closets: one colour-coded dress closet (don't judge me) and one closet for jackets, accessories (it's where I keep my little black dress jewellery hanger), and make-up (arranged in clear containers on the metal tiers underneath).
The rest of my clothes, bags, and miscellaneous pieces live in a six-drawer rectangle against the far wall. That is, except for my mannequin: she gets the pleasure of wearing my popcorn handbag, crowns (as in…floral and sequinned Minnie Mouse ears), and a collection of London Fashion Week press totes (ah, sentimental).
At her proverbial feet, I keep my recycled magazine baskets, a few make-up brushes, quick fix hair products, my go-to Dolce and Gabbana sunglasses, and my Citizen watch.
Bathroom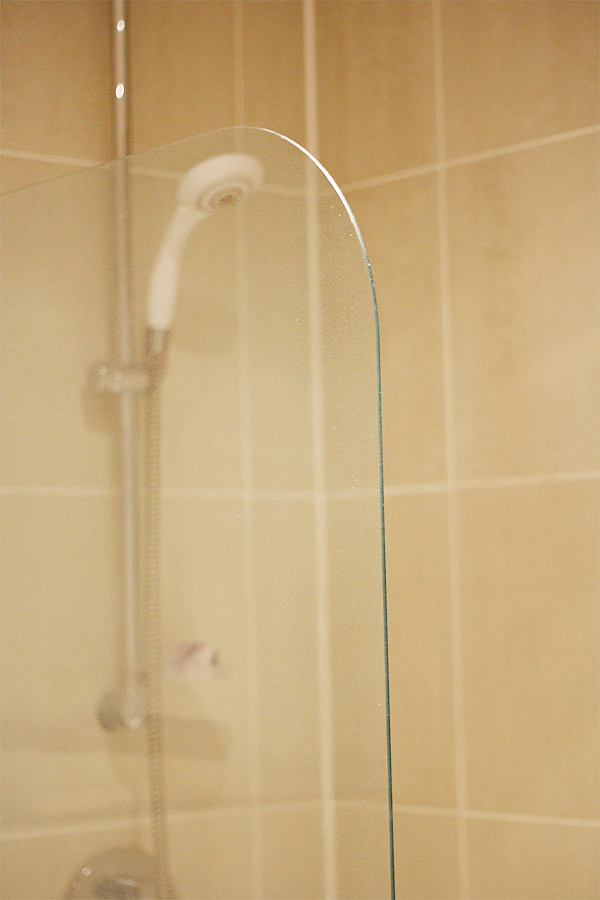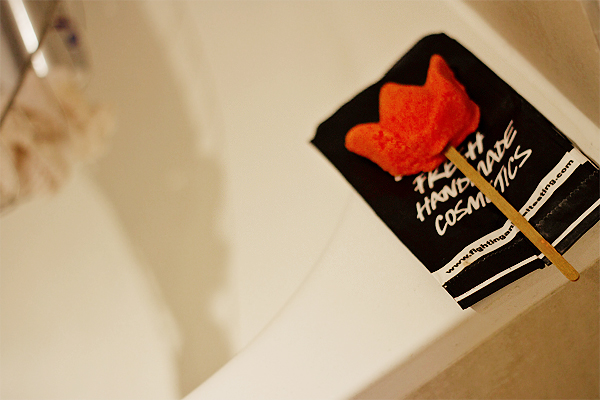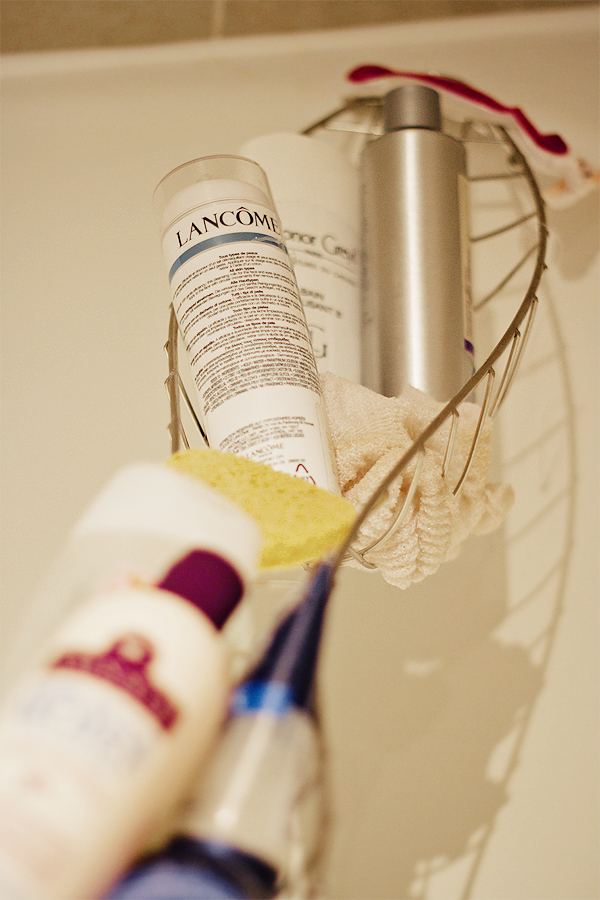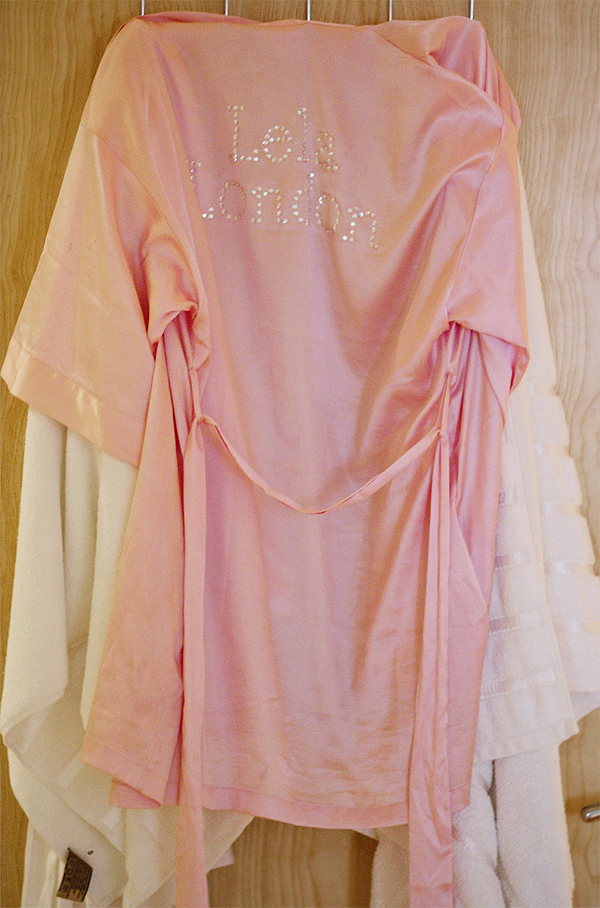 Before reaching the final bedroom, let's say a quick hello to the bathroom. When searching for an apartment, I actually felt this was the strength of this particular property. It's tiled, has great shower pressue, a nice big bath, modern silver fixtures, and meant I had to do practically no decorating. My best bathroom investment was actually the two-tubbed bath caddy (again, from House of Fraser). The Manfriend keeps his products in one tub, I keep mine in the other, and nothing is disorganised or gunking up the side of the tub.
Other than that? We simply invested in good towels and a place to hang my Victoria's Secret robe. Pretty simplicity.
Bedroom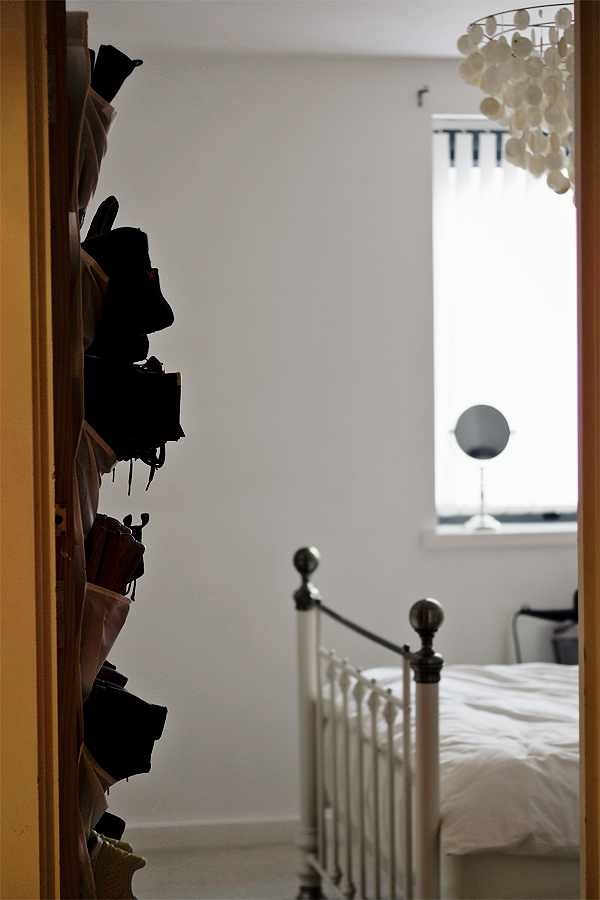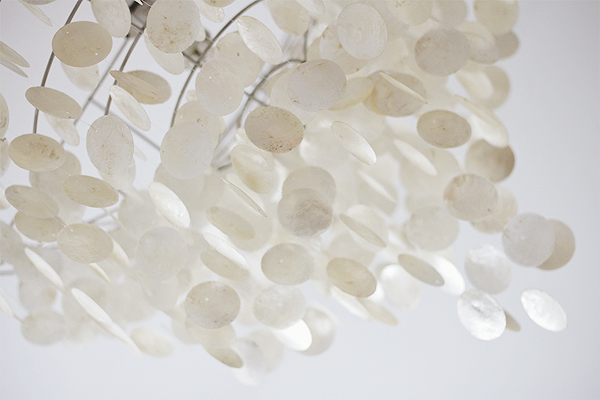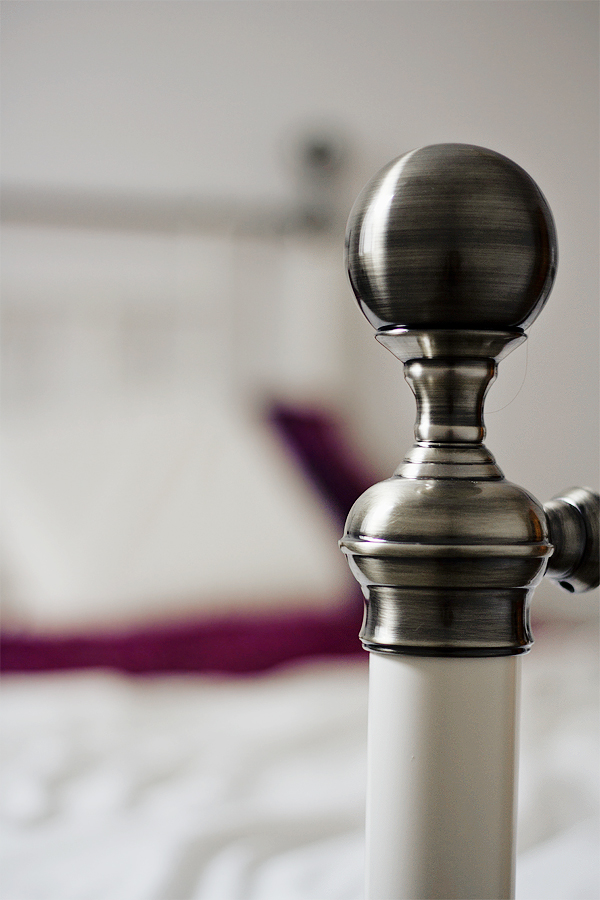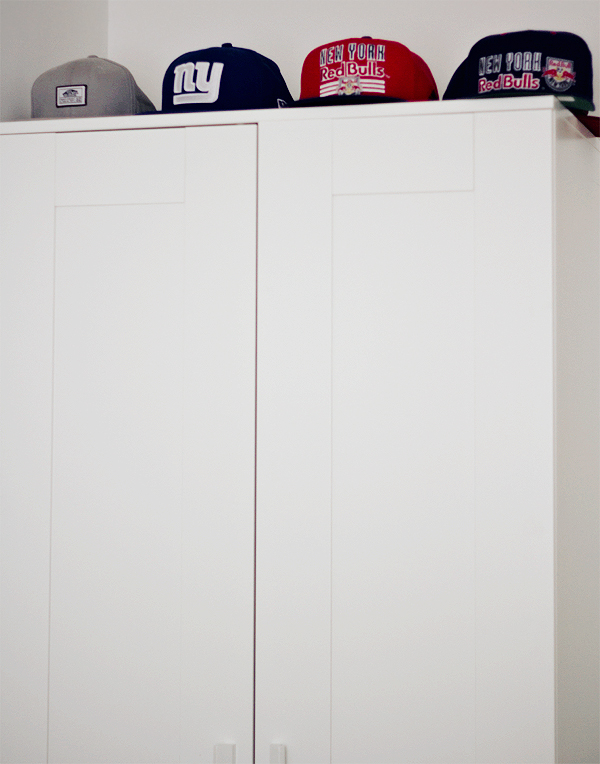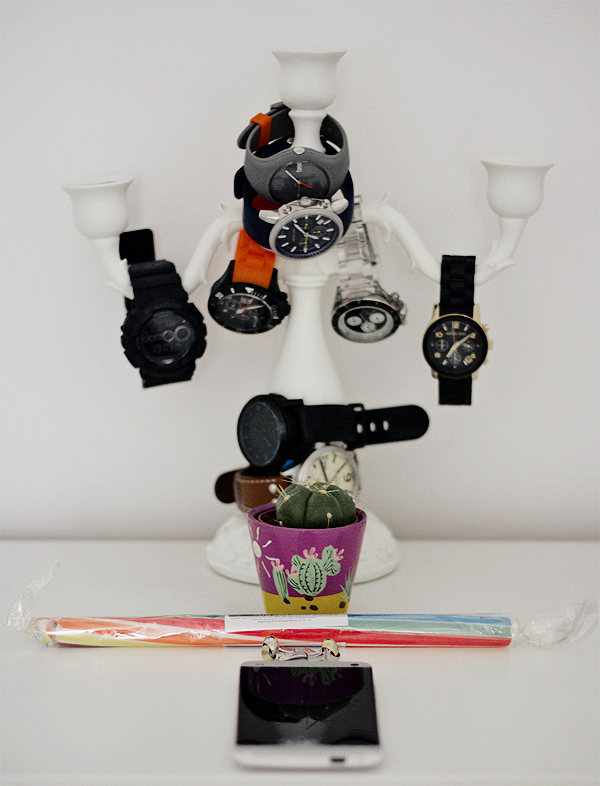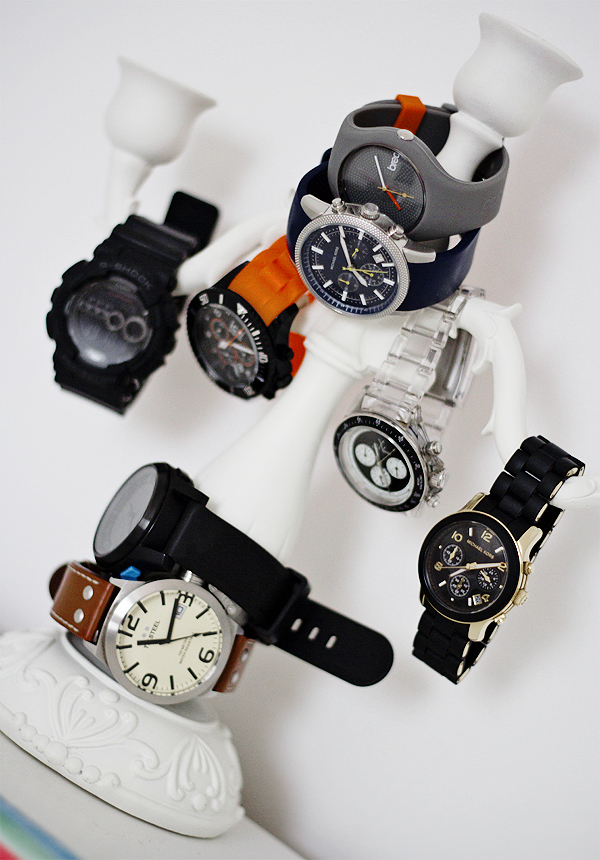 The final frontier is the bedroom. Tthe rule for using the spare room as my closet and office is that The Manfriend has full ownership of 'things' in this space. Apart from the bed, of course, which ended up being the biggest investment in our entire home. Fortunately, our bed and mattress – both from Next – guarantee a good night's sleep like no bed I've ever owned.
I'm consistently on the hunt for the perfect white/silver/cream bedding set. Watch this space.
Though we aimed to keep it gender neutral, our lightshade is probably the most feminine piece in the room. It is a gorgeous blend of thinly shaven shells and if they catch a breeze the sound instantly reminds me of the ocean.
Across from the window, there is a long inlet where he keeps his clothes and any personal items that don't work for our other storage solutions. Ingeniously, he recently turned a candelabra into a watch stand to keep his most prized possessions (#watchman) in view.
For the time being, that's a wrap! It will always be a work in process, so I can't wait to see how our next house tour will come together.
Thank you for stopping by!