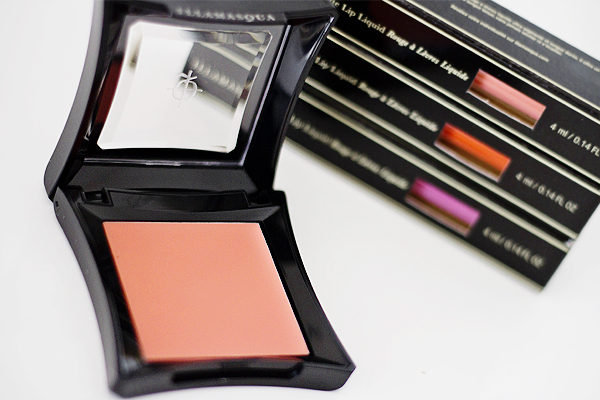 Matte lovers, hide your wallets: it's time to review Illamasqua's Summer 2014 releases.
Velvet Blusher in Flirtatious
Once again, Illamasqua's velvet wonders tug at my blush-hating heartstrings with new shade, Flirtatious. This peachy pink is a perfect match for pale skin (potentially too sheer for medium-dark skin tones) and offers a demi-matte, long-wearing finish.
Matte Veil
Since the Hydra Veil's release, Illamasqua junkies have begged for the arrival of this product. Now – with an unusual number of scorching days on the horizen – this exceptional matte primer's unveil is making a lot of women very happy. As I prefer to use primers with my hands, I adore that the Matte Veil pot comes with a hygiene spoon on the inner cap. A small scoop of the light and water-based primer  keeps your make-up in place throughout the day and breaks down the oil in your skin without drying it out.
Skin Base Mixer
While the skin base mixers are available exclusively at Illamasqua counters, they are worth the trip out of the house. The Mixers are colour correction cosmetics at their finest. On offer, we have White (a badass highlight), Amber (excellent to counteract redness), Terracotta (warmth in a tube), and Chesnut (a heavy and long-lasting contour). As the cherry on top, even the tiniest brushstroke of product goes a very long way. Swatches below.
Matte Lip Liquid
I couldn't imagine these formulas budging even if you had the sweatiest lips in the world (side note: poor you). While liquid lipsticks are renowned for drying uncomfortably, Matte Lip Liquids dry to a 'moisturised lips' feel in no time at all. Then stick around through smooches, cocktails, et al. I mean, bravo. Currently, you can get your hands on Surrender (a warm peach), Exotic (a deep, vivid orange), and Forbidden (a sensual violet-pink that looks incredible on dark skin tones). Swatches below.