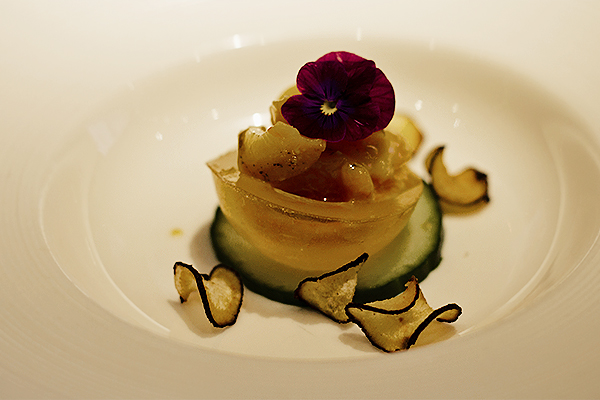 I wasn't expecting to discover my all-time favourite beef dish at a Chinese restaurant, but it happened. It happened at HKK.
At the helm, Michelin-starred Chef Tong Chee Hwee has turned the Hakkasan Group's abbreviated sibling into a banquet-style celebration of Cantonese cuisine. While HKK does offer a la carte options, the tasting menus are the restaurant's pride and glory.
Two SLR-strapped women and a 15-course tasting menu each? It had to be done.
Knowing we'd have to table our cocktail habit to make our way through all fifteen dishes, we decided to kick things off with the horrifically named (but truly scrumptious) 'Washing Potatoes' – a zesty blend of kiwi, ginger, coriander, lychee and apple juice – before sticking to some good ol' H20.
Now, the feast.
Priced at £98 per head, I had very high expectations of the tasting menu but was blown away by the delivery of each course. Every bite is a careful and intricate selection of flavours and textures that far exceeds all preconceived ideas of 'Chinese food'.
Verbally, the introduction to the 15-course tasting menu reads a bit like heaven: whelk salad with Shaoxing wine jelly, then roasted Poulet de Bresse, foie gras and mandarin confit, the 'HKK supreme' seafood soup (a truffle-infused life changer), cherry wood roasted Peking duck (hand-carved tender flesh, crispy skin, and a moreish blend of salad and pancake), a dim sum trilogy (some of the best in London, served with a paintbrush to 'paint' your soy sauce onto each ball), chargrilled quail and Mui Choi rice, then a light sugar snap, lotus root and water chestnut salad.
Seven down, eight to go.
Before moving on to Number Eight, HKK pause to serve a Da Hong Pao tea ceremony and light palate-cleansers. As China is currently celebrating its mid-Autumn festival, Chef Tong Chee Hwee has specially created two exquisite moon cakes – a sweet moon cake with a lotus seed and red date enveloped by delicate pastry and a savoury and sweet snow-skin moon cake with a nutty, lotus seed centre – to be served with the ceremony until September 13th.
After nibbles, sips, and the feeling that The Force might indeed Be With Us, we pushed through to the next stage of the tasting menu.
For the 'mains', we were presented with an incredible plate of grilled New Zealand scampi in truffle miso sauce, Hong Kong style steamed lotus leaf halibut, seared Wagyu beef with Enoki mushrooms (absolutely, definitely the best beef dish I've had anywhere, ever), and Chinese-spiced Rhug Farm organic lamb. Almost definitively, each course was a gastronomic work of art.
Unable to retrain ourselves from leaving a single morsel behind over two hours, we were feeling 100 types of exhausted by the time we reached dessert. Alas, beautiful layers of strawberry, verbena cream and almond brittle still preceded a raspberry and dark chocolate delice with cocoa nibs and, dutifully, we attempted to fork our way through to the very end.
Staring (defeated) at our selection of petits fours, we took a second to reflect on the meal and go through my standard review of noteworthy positives and negatives (aka The 'Is It Blog-worthy? Test').
There were no negatives. Not a single one. HKK's food, service, and atmosphere is immaculate. To be quite honest, I might consider moving within walking distance.