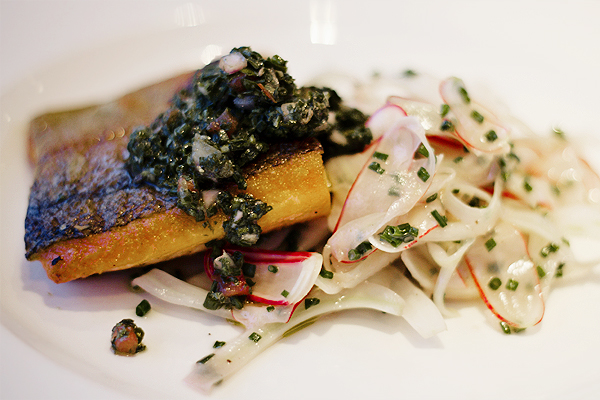 Holy hidden gem, you guys.
I have yet to hear a single foodie friend talk about Portrait Restaurant at The National Portrait Gallery in London. Why? The logic escapes me. I haven't had such a lovely, friendly meal (with portrait-ready views, to boot!) in quite some time.
Before heading off for a weekend in Paris, I wanted to tick a tourist spot off of Tiffani's casual traveller list by taking her to Trafalgar Square. While I rate very few restaurants in the area, the lure of Portrait's simple menu (and the Portrait Gallery's Virginia Woolf exhibition) sealed the deal and took our reservations for our the last few hours in London.
After an afternoon trawling the visual centuries, we made our way to the top floor of The National Portrait Gallery and instantly lost ourselves in the views  (pictured below).
From the London Eye, to Big Ben, to Nelson's column and more, the views are just ridiculous. If you don't request a window seat, you are going to regret it.
Of course, we weren't only there for the views..
Reading through the menu while we drank in the views (and our fair share of champagne), my dining companion settled on three dishes from their original menu, while I chose options from their collaborative Summer menu with Herbfest.
For my dining companion, Gnocchi Romana with prosciutto and sage butter, followed by corn fed chicken breast, summer vegetables, and herb creme fraiche, and a chocolate cheesecake with salted caramel and Chantilly cream for dessert.
On the herbier side of the menu, I opted for Dorset crab with fine herbs, avocado, cherry vines, and brown crab dressing, followed by an impeccable slab of sea trout with shaved fennel, radish & baby spinach salad, and tomato & herb relish. I even managed to make room for the British cheese selection ('managed' as in 'I can't say no when it comes with fruit bread crostini and quince jelly').
Flitting between bites of each other's dishes, both sides of our small table were met with infallible, low-key, high-quality plates and the most attentive, charming service for miles around.
As hidden gems go, I feel like it's my duty to get you to Portrait. In my opinion, you cannot see London in a better way.