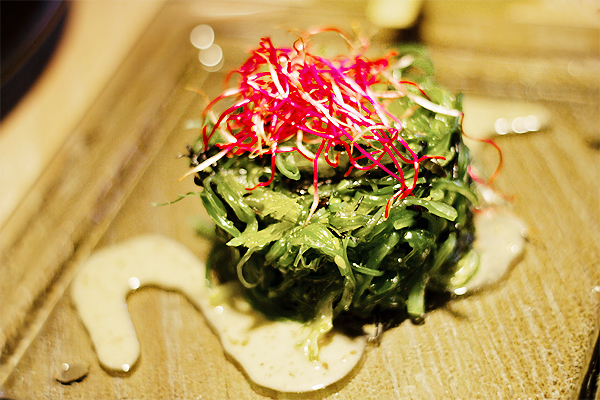 Though I once considered sushi to be my 'favourite food', years of easily accessible lunch sushi has taken a little bit of glitter away from the Japanese speciality. When something becomes your 'lazy lunch' go-to, it is hard to count it as a favourite.
Thank heavens for UNI.
Though Uni can be pigeonholed into 'sushi' territory, it is actually a vibrant melange of Peruvian and Japanese fusion. Situated in the quiet backstreets of London Victoria (where food takes a backseat to tourism crossroads), the Andrew Martin-designed restaurant is as impressive as its interior design relations.
UNI was created by former Nobu chef Rolando Ongcoy and, in my opinion, trumps the Michelined Old Park Lane hangout on multiple levels.
First? The service. While UNI is designed to haute perfection (the bottled lightshades were a personal highlight), it is not stuffy or unfriendly. In fact, the staff deliver perfect knowledge, etiquette, and charm with each dish.
Of the dishes themselves? I'm not sure a careful compilation of words and photography could endear it as well as experience. Though we started modestly with edamame and a goma-dressed Kaiso seaweed salad, every plate – from the the yellowtail tiraditos (with kizami wasabi, yuzu, and fresh mint) to the Wagyu beef (with rock salt and chilli) – was an intoxicating blend of delicate, moreish, and unusual flavours. Flavours and ingredients so fresh it had me feeling like I was in a chewing gum commercial.
For this review, I feel it would be unjust to talk you through each dish. Rather, I simply hope you visit UNI and order at least one item from each section of the menu. It's a divine exploration that even a sushi skeptic would gush over.
(Tip: Just, you know, don't miss out on the crispy yuca seabass ceviche with chilli, amarillo, red onion. #CANTHELPMYSELF).
With pencil skirts tightening, my companion and I chose to leave dessert for a future visit, but I imagine it won't take much of an occasion for me to return.