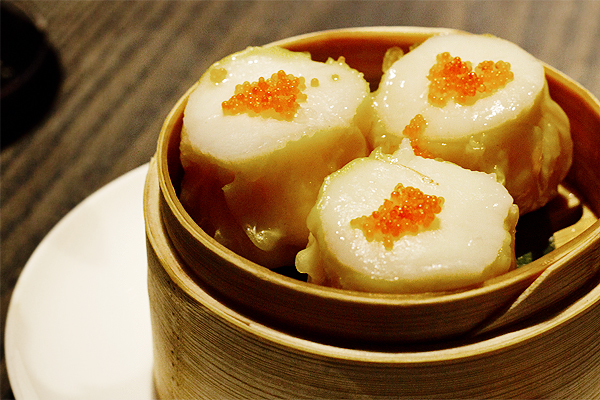 I seem to have made an accidental habit of going on a gargantuan food splurge at Yauatcha at the tail end of every Fashion Week.
Only this time, my fashion celebrations coincided with Yauatcha's 10th birthday celebration.
Throughout September, the Michelin-starred dim sum teahouse have been releasing weekly off-menu celebrations centered around the restaurant's four points of excellence; the Chinese kitchen, teahouse, patisserie, and cocktails. They began with Executive Head Chef Tong Chee Hwee's secret Dim Sum Platter, moved onto Senior Bar Manager Eder Neto's Eight Butterflies green tea (which – while combining cranberry, rose petal and chrysanthemum – quickly became my dream tea), then featured Executive Pastry Chef Graham Hornigold's secret Pumpkin Caramel (soy caramel puffed rice with roasted pumpkin choux bun filled with pumpkin, vanilla cream and pumpkin compote, with a spiced crunch topping).
Sneaky peak? Starting tomorrow, the final week will introduce an off-menu glass of Bollinger Rosé Champagne served with two miniature jugs of mixers and a micro-cocktail class by the waiter (you can thank Head Wine Buyer Christine Parkinson for this brainwave).
Secrets aside…the meal itself far surpassed my prior experience. Stellar as it was.
For this visit, The Manfriend and I chose to chow at the mercy of our waiter. With a simple request to trial the plates so sublime they could convert a vegetarian, we were presented with a bounty of diverse dim sum delights.
A cacophonous delivery of Chinese delicacy and innovation; lobster dumplings with tobiko caviar, buttery venison puffs, prawn and beancurd Cheung Fun (a drool-inducing revelation), and more. Followed by a hand-carved quarter of Crispy Aromatic Duck with all traditional trimmings, the selection made up a spectacular feast for two.
By this time, we were splitting at the spine, thus decided to accompany our off-menu tea with four handpicked (and rather exemplary) macarons.
If I ever regain my appetite, I shall plan to do it all again.