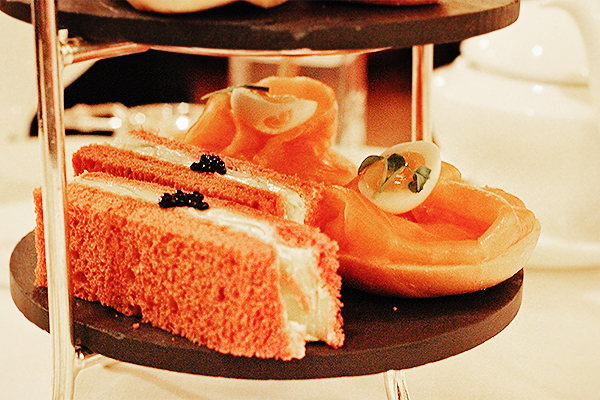 I have frequented Hotel Cafe Royal a number of times over the past two years and each visit – inclusive of afternoon teas, dinners, champagne and caviar excursions, et all – has been a pleasure.
Nothing, however, prepared me for this afternoon tea. Swapping the Ten Room for the gold-dipped Oscar Wilde Bar, Chef Andrew Turner's newly-launched London High Society afternoon tea menu ticked every opulent box you could imagine.
I would endeavour to put the Oscar Wilde into words, but you simply have to experience it for yourself. 'Royal' is an understatement.
Settled in among a hidden congregation of fellow afternoon gluttons, The Manfriend and I cheersed our glasses of Veuve Clicquot and perused the tea menu before the amuse bouche was served. The 'Low Sidecar Muffin' was a fluffy and savoury delight accented by truffled cream cheese and a miniature pipette of jus.
Shortly thereafter, my pot of Queensbury (a refreshing, herbal infusion of lemongrass, fennel seed
and liquorice root) arrived alongside three tiers of savouries. For each person, there was a wild boar, crackling, pickled apple and mustard bun, a goat's cheese puff with wine jelly, a Mary Rose prawn cocktail canape, a London Cure smoked salmon and quail's egg pastry, and an artfully presented "Cucumber and cream cheese" sandwich…
…all preceeding a palate cleanser of chocolate marshmallows and a shot of fruit tea, of course.
Pausing to take a mid-tea teabreak (oh yes, there's more) while the pianist tinkled the ivories to a few familiar melodies, we finished our pots and welcomed the sweets and scones with open plates.
Though neither of us has a particular sweet tooth, we are veritable SconeHeads so chatted, jammed, and clotted-creamed our way through the small basket of fresh scones between bites of the other fruit-filled treats.
High points: Absinthe green fairy macarons, edible flower pots, and individual tubes of lemon curd.
High society may not be everyone's cup of tea, but Cafe Royal's edible version is instinctively praise-worthy.