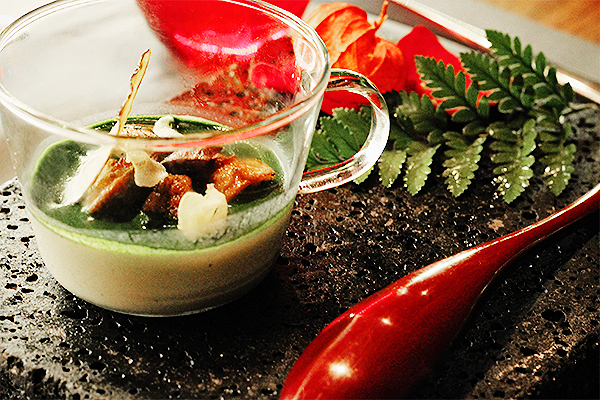 I have been thinking about this review for a number of hours. Fretting, almost.
The jist of the matter is not-so-simply that L'Atelier de Joel Robuchon showed me the best meal I have had all year, and putting something like that into words is never an easy feat.
Every single factor a restaurant could be judged on was inarguably faultless – even when presented with the 'challenge' of my vegetarian, alcohol-free, and nut-allergic girlfriend. Though we are both knowingly aware that her list of 'can'ts' throws up a challenge or two, the manager, chef, and kitchen team took it completely in their stride. And then some,
Opting to dine around the counter area on the ground floor (the first floor is a tad formal for a catch-up between two expressive women), we nestled in alongside our Michelin-loving countermates and gawked through the bar as we watched the chefs creating a flurry of meticulous masterpieces.
Variety may be the space of life, but I'm not sure anyone could convince me to sit away from the action.
Juiced from the arrival of a berry-filled mocktail and glass of champagne, we decided to leave our food choices up to gastronomic fate (while informing the chef of my dear accomplice's food restrictions) and sat back to let the chips fall.
And this is where the review gets tricky. Something about chef Xavier Boyer's menu feels sacred…experiential in a way that begs for trial. Some of the less extravagant-sounding dishes ending up becoming real highlights and pinnacles of innovation (rather than an afterthought, as I've experienced in quite a few Michelin-starred restaurants). I wouldn't dare to review dishes on their own; the menu is ever-changing, seasonal, and merits fresh, explorative eyes.
(Though I will say you'd be a pesca-fool to miss out on the caviar-topped salmon tartare.)
As far as its Theatreland locale is concerned, L'Atelier is the only restaurant you'll find where dinner is the show.