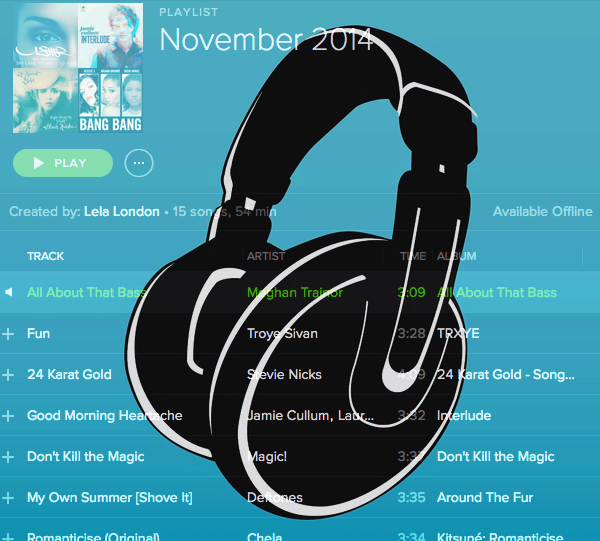 Welcome to November, superbabes! Don your jumpers, fill your red Starbucks cups up, and please say hello to this month's free Spotify playlist.
I'm not even going to feign the idea of a theme with this playlist. I've been travelling like crazy over the past month and simply found a new favourite song every day…
…well, at least on the days I could get Shake It Off out of my head.
(Need to catch up on last month's? Click here for October's free Spotify playlist.)
(Download Spotify here. It's free!)
Track listing:
All About That Bass by Meghan Trainor
Fun by Troye Sivan
24 Karat Gold by Stevie Nicks
Good Morning Heartache by Jamie Cullum
Don't Kill the Magic by Magic!
My Own Summer [Shove it] by Deftones
Romanticise by Chela
Okay by Holy Ghost
She Came to Give it to You by Usher and Nicki Minaj
Class Historian by BRONCHO
This is the Last Time by Stars
I'm Not The Only One by Sam Smith
Bang Bang by Jessie J, Ariana Grande, and Nicki Minaj
Land of Opportunity by A Great Big World
GET UP by Young Fathers