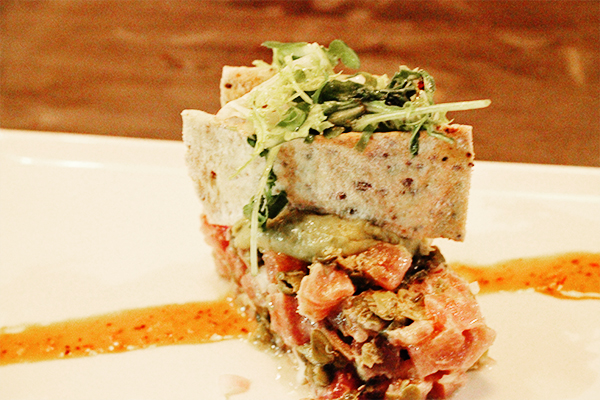 The menu read:
Ten years ago the founders of Hotel Chocolat bought an old
1745 cacao estate in the Caribbean called Rabot. The cacao
and the culture were the inspiration for this menu.
A dinner celebration with the Manfriend's family wasn't intended for review, but the second the Anglo-West Indian faire from Hotel Chocolat's restaurant – Roast + Conch – hit the table, all bets were off.
I mean, if tuna tartare with cacao guacamole, lime-ginger dressing and crispbread doesn't do it for you, nothing will.
The other half went for my old flame, the Not-So Scotch Egg, while the others swooned through bites of their new Yorkshire Pudding starter (filled with rare-seared parkin-spiced
beef, white chocolate mash and cacao red wine gravy) and a crispy duck confit potato cake (served with braised red cabbage, and cacao-orange sauce).
Whipping the SLR out was a nessecity.
For the main event, all three men couldn't resist the chopped rump steak burger (served with aged cheddar, cacao beer braised onions, french fries, creole chutney and crisp dry cured bacon), and I can't say I blame them; a single bite and I was making a date to return for one of my own. This is not to say I didn't enjoy my own main, of course. My crapshoot order of pork faggot meatballs (bucket listed) was an elegant surprise; alongside pork belly, crisp dry cured bacon, cacao beer braised onions, white chocolate mash and roast jus. I was delighted with what could have easily turned out to be an unpleasant choice, just as the Manfriend's mumma was with her Caribbean 'fish run down' (though the market fish used changes by the day, the light coconut curry and vegetables would be a flavourful friend to any white fish).
As indulgences go, we were all a tad overwhelmed by the idea of solo treats and opted to share the BAFTA dessert (50% milk chocolate mousse, cacao beer caramel, roasted mixed nuts, and almond dacquoise) and sticky toffee and cacao beer pudding (with insanely moreish cacao-infused whipped cream) between us.
Roast + Conch is a divine treat for chocoholics and foodies alike. Praise Cacao Jesus.