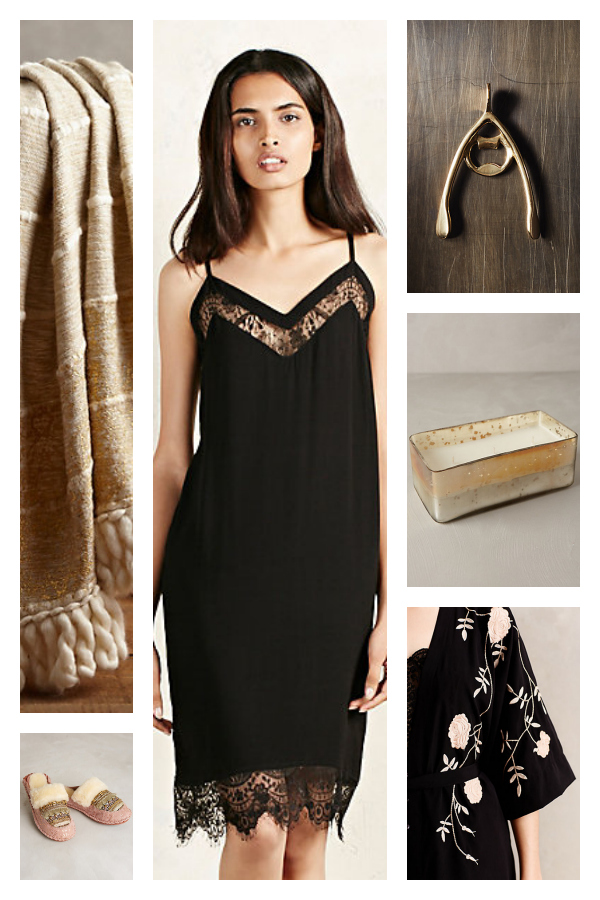 In the grand 'staying in' versus 'going out' debate, I am always surprised by the lack of compromise between the two types of New Year's Eve celebrations. As a woman who likes to have my cake and eat it, when Anthropologie asked me what kind of NYE I'd be having, a quick browse of their cosy accessories did all the work for me: I'll be staying in, but forgoing the cliched habit of falling asleep in front of the television after one too many glasses of sparkles for something a little more special.
Dear readers, this is the year to stay in and throw yourself a New Year's Party (no skyscraper heels or overpriced cocktails allowed). Instead of the 'night out' norm, invite a few of your nearest and dearest for a luxury night in and cater your space with simple, beautiful decorations; throws, balloons, candles, slippers, robes and champagne, natch.
In my opinion, no party or New Year's event can hold a candle to an intimate celebration away from pre-booked taxi chaos and a sea of sloshed strangers.
If you're on the same wavelength, you'll be happy to hear that – in collaboration with this post – Anthropologie have provided me with a £50 gift card to give away to one lucky reader!
How To Win a £50 Anthropologie Gift Card:
Simply follow Lela London on Bloglovin' and tag a friend who you'd like to spend New Year's with in the comments section of this Facebook update (click here).
Competition will end December 21st, 2014 when the winner will be announced on Facebook!
Pictured above:
Mohair Fringe Throw
Second Female Dipty Dress
Embroidered Soft Robe
Lilka Beaded Moccasin Slides
Wishbone Bottle Opener
Mercury Moonglow Candle
(all Anthropologie)