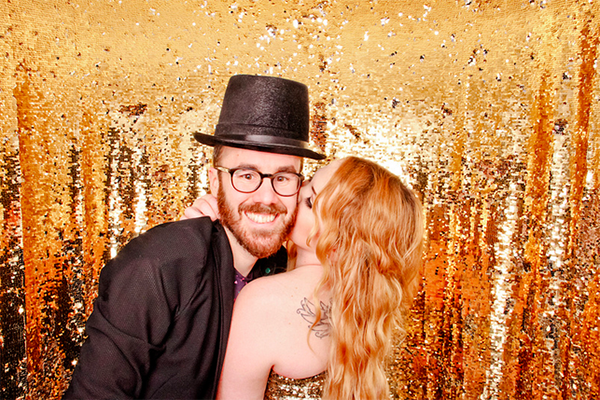 How often can you get lots of people that you love in one room? Not often, I tell you. Not often at all.
With my next birthday approaching and no wedding or funeral on the horizon, I decided to throw a very glittery birthday party to get my nearest and dearest surrounded by fun, noms, and each other's greatness.
We decorated…
…with packs of 16-inch metallic confetti balloons and 34-inch giant gold numbers from Bubblegum Balloons (the latter of which are still floating strong). Because the main room we held the party in has quite low ceilings and LED spotlights, we chose not to secure them but them them float just above people's heads like confetti-filled clouds. The numbers, however, were held down with Bubblegum's adorable little weights.
The majority of other supplies were all from Partyrama and their party superstore; the inflatable beer pong trophy, clear beer pong cups, gold and silver cups, gold and silver serving trays, table confetti, printed gold napkins, et al. It's all in the details.
We ate…
…cake pops to amuse the bouche and the incredible 10-inchers from Pizza Loco and their mobile pizza train. As well as being an insane visual addition to the party, the train delivered specialist pizzas as fresh as they come; the Magic Mushroom (chestnut and field mushrooms, oven roasted garlic, cheddar and mozzarella sprinkled with Parmesan and truffle oil), the French Melt (mozzarella cheese, prosciutto, French Brie or Camembert, and rocket), and the Analucian (mozzarella and Manchego cheese, spicy chorizo, and mixed marinated olives).
We posed…
…for hours upon hours in the ingenious Booth Revolution photo booth. With ex-policeman Nigel manning the booth (and ever so kindly catching flyaway beer pong balls for us), the four-person booth became Party Central.
And often filled with more than four people.
Though Booth Revolution have deluxe-sized booths, the 'classic' option was party perfect and came with three hours hire time, the lovely Nigel (though I'm sure he doesn't come with every party), a props box, backdrop, unlimited instant 6 x 4" prints, a password protected online gallery, unlimited downloads (6 x 4" size), a disc of all the images, and full set up and break down.
We drank…
…and drank and drank. Beer pong, a magnum of Prosecco, and an emptied bar cart on top of my generous (and loose) punch pouring makes for happy faces all 'round.
We listened…
To this month's party playlist on Spotify, obvs.