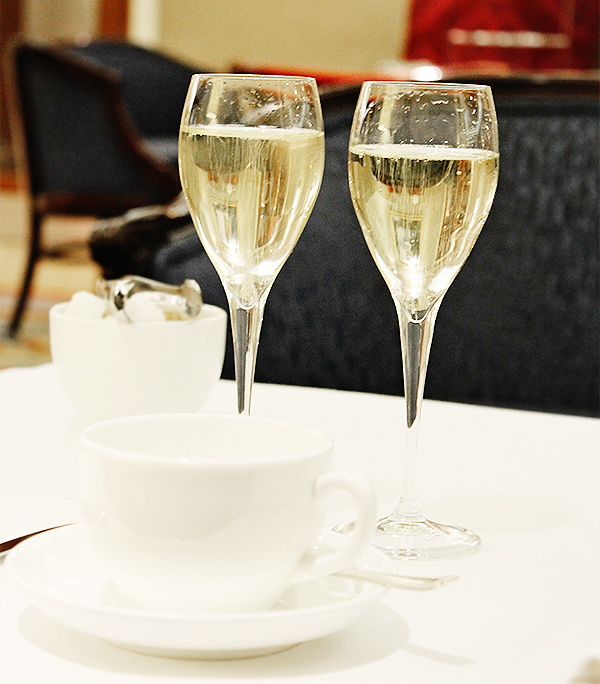 If you've been clicking around my blog for any longer than a week (thank you, superbabe!), you'll know I love to pepper my work days with as much adventure as possible. Though I tend to work from dawn to dusk, I know I need to step away from the grind when schedules and clients allow.
When you're in London, there's no better escape than afternoon tea.
When a slot in Wednesday's schedule opened up, I made a date with the Lancaster London's Ben Purton and his signature afternoon tea.
In August, Purton took over the hotel's two restaurants (Island Grill and Nipa Thai), banqueting for up to 3,000 guests, room service, the Lounge Bar, and the Lounge Bar's Afternoon Tea as Executive Chef.
All that and the man still manages to knock the scones – and then some – out of the park.
Kicking things off with a glass of Laurent Perrier, I decided to go for a pot of organic darjeeling (champagne of teas to follow the champagne of champagnes, naturally) while my tea buddy chose his favourite – a classic pot of English breakfast tea (a full-bodied version blended with three different Assam leaves).
While the tea timer did our dirty work, we began to plate up our savouries; a Lancaster London smoked salmon sandwich, an egg & wild cress sandwich, a cucumber sandwich, a wild mushroom, chicken and tarragon tartlet, and a roast beef-filled Yorkshire pudding with horseradish cream (the cake-taker, by far).
With excellent timing, our waitress then approached us to ask if we would like any more sandwiches (not with scones coming!) and if we were ready for our scones (YES, ALWAYS YES!). The warm plain and raisin carb clouds were then served to us with homemade strawberry jam and Cornish clotted cream, making all our dreams come true.
Making a push for the sweets tier, I took small bites of everything to ensure no sugared stone went unturned. From favourite to could-still-be-a-favourite, the final plate featured white chocolate and raspberry lollipops, apple and honey cupcakes, lemon fruit tarts, caramel and hazelnut tranches, and passion fruit and raspberry macarons.
When a macaron comes 'last', you know you're dealing with a pro.