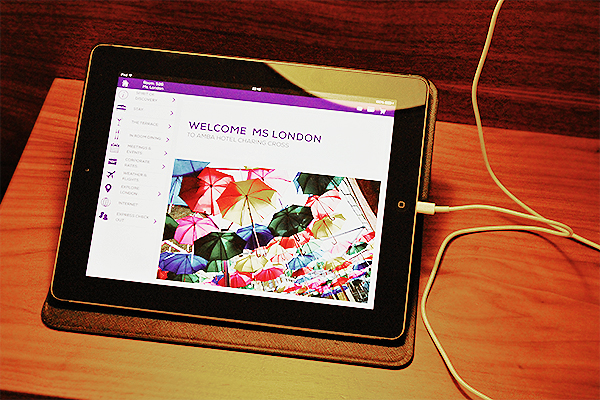 I can't even deal with The Amba Hotel (in the expressively grateful Valley Girl sense, of course).
Last week, I booked in for an evening sandwiched between late events and early meetings and was truly overwhelmed by the whole experience.
First things first: the building. During my review searches, I had seen a number of previous guests coo over its proximity to the tube, but didn't realise just how close it was. Amba Hotel Charing Cross is literally attached to the rail station and a 180-degree turn to face the front door as you emerge from the Underground. It is also rather majestic (yet unassuming) on the inside; I'm not sure anything could make a Londoner's heart pitter patter much more.
And then, the service. From the second I went to check in, I was welcomed by a handful of staff that were not only pleasant and professional but genuinely friendly and considerate. I almost felt like a was about to stay in a friend's (exceptionally enormous) home.
Climbing the grand wraparound starcases to the fifth floor, I entered the room and immediately wanted to cancel all the evening's plans. The view (adjacent to Trafalgar Square)! The complimentary minibar (with a mini-sized Prosecco bottle)! The walk-in shower (and two-person tub)! The bed (adjacent to a large desk, but much more fun to do work in*)! The free iPad (hello, room service of the future)! The wi-fi (excellent, compared to generic 'free wifi')!
While I was Lady Boringpants and spent most of my afternoon having Nespressos over my laptop, its tourist's dream of a location was not lost on my cold London heart; I opened all the windows to play peeping tom on the tourists and tourism on The Strand below.
After a tiresome evening of events and luxurious night of catching Zzzs, I played 'Queen of The Amazon' in the rain shower and sashayed down to The Terrace for a bit of Eggs Royale. Every single part of this scenario was perfection.
It was only checking out that burst the bubble. This hotel has the potential to become quite an expensive hobby.
* (I was recently interviewed for the Gumtree blog about the interior design in the Celebrity Big Brother house and I have to say I have never been anywhere so comfortable while 'doing work'.)