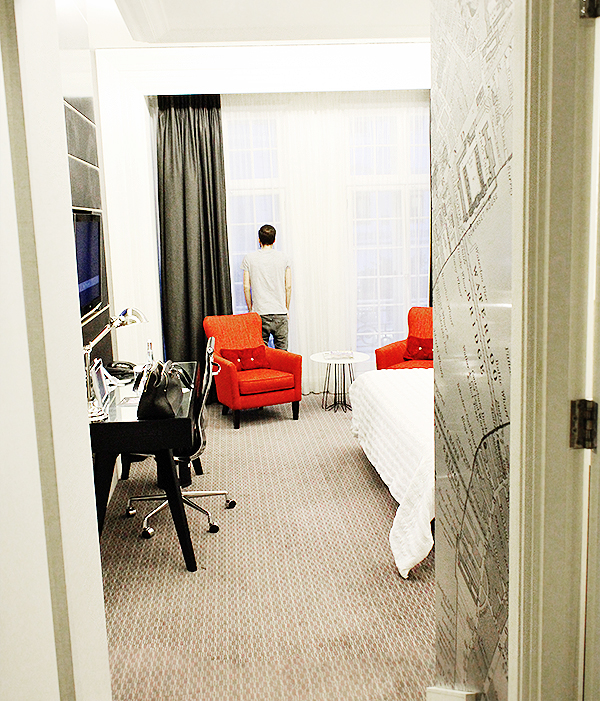 With such an intensely hectic and successful year under our proverbial belts, The Manfriend and I booked in for a too-busy-to-leave-the-country staycation at Le Meridien Piccadilly.
It was a no-brainer.
Though the location is as covetable as any tourist guide would suggest, the hotel – which overlooks Piccadilly – is spacious, luxurious, and filled with the friendliest staff you could imagine.
From check-in to check-out, our stay was seamless. Welcomed to our room by two fresh eclairs and a handwritten note – points for the little things – it took less than a minute to feel completely at home (the London map wallpaper and Piccadilly Circus-branded bathroom mirror didn't hurt).
After playing tourist, ridding Gaucho of all their protein (as it's only around the corner), and returning to crash into a bed for five (for two), we woke up the next morning and headed straight for the swimming pool and sauna. Underneath the hustle and bustle of Piccadilly, Le Meridien guests are lucky enough to enjoy one of the largest hotel swimming pools around – mood lighting, deck chairs and all. It was the perfect start to a jam-packed day and a jam-packed breakfast.
Le Meridien Piccadilly's Terrace Grill & Bar, you see, turns into a bit of a breakfast wonderland in the mornings. Though you'd call it 'continental', the variety of buffet options available for the hotel's patrons range from carrot cake muffins to very naughty slabs of brie. I am not a big fan of buffet-style set-ups, but was not at all disappointed by the schizophrenic selection of sweets and savouries that found their way onto my plate. Not one bit.