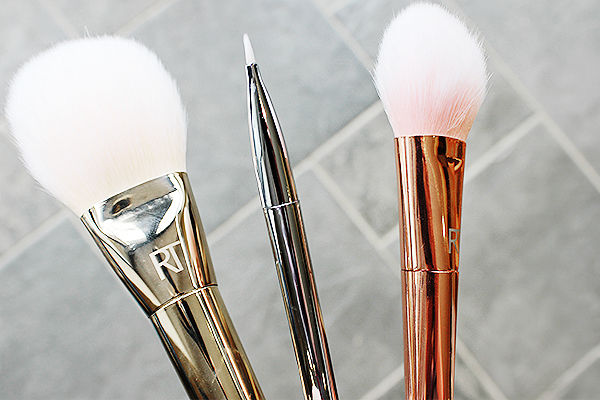 Real Techniques Bold Metals collection brushes, meet my beloved blog readers. Blog readers, meet my new favourite make-up brushes.
Sam and Nic Chapman latest collection of rather luxurious gold (base), silver (eyes), and brass (finish)
brushes truly rival the bests of my kit. Though Real Techniques have already gained a plethora of beauty-loving fans, this collection kicks things up to premium level.
Bold Metals – as a seven-piece collection – features a lot of tapering (which generally does most of the work when you're hoping for a natural finish), weighted handles, and super-soft white bristles (ideal for gauging product pick-up). Personally, the three best brushes from the collection are the Arched Powder Brush 100 (for airbrushed faces), Angled Liner Brush 202 (for getting right inside the lashline without bristle drag), and the Tapered Blush Brush 300 (for living in sculptor's paradise).
I recently hosted a blogger dinner party (more on that next week!) and even purchased a few more Bold Metals brushes to include in an unplanned prize pack to share the love. They have some lovely collections already tied up with a bow, but this piece-by-piece collection will get my vote every time.