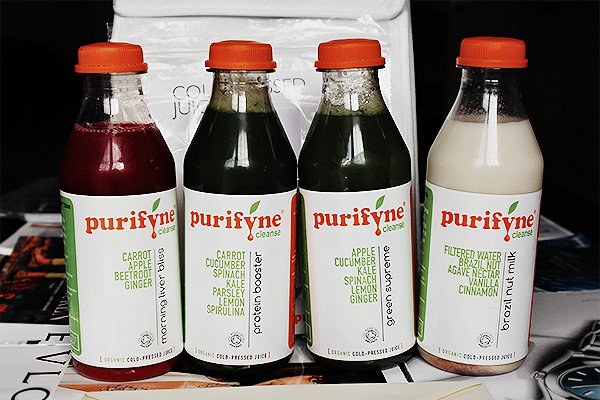 I would never be delusional enough to call something 'The Juice Cleanse for Everyone' (the face The Manfriend pulls when I drink a green juice is reason enough), but Purifyne's Work Smart Juice Pack is the closest contender.
Last week, I trialled the cleanse on my first day 'back to work' from Thailand. It was either going to make or break me – my sneaking suspicion being that it would be the latter.
Why so confident? Unlike the vast majority of juice cleanses, the Work Smart pack aims to superboost energy, mood, focus and mental agility with the help of added seeds, spices and micro-nutrients (chia seeds, cayenne pepper, spirulina, Maca and cinnamon).
Each day comes with four 500ml nutrient-dense, certified organic and cold-pressed juices:
– Morning Liver Bliss with Maca powder: carrot, apple, beetroot, ginger (giving a similar 'zing!' to a cup of coffee)
– Protein Booster with Spirulina powder: carrot, cucumber, spinach, kale, spirulina, parsley, lemon (in my opinion, best as a lunch option as it is quite filing)
– Green Supreme with Cayenne Pepper: apple, cucumber, kale, spinach, lemon, ginger (my surprise favourite)
and
– Brazil Nut Milk with Cinnamon, brazil nuts, water, cinnamon powder, vanilla extract, and agave nectar (my healthiest milkshake imaginable)
Long story short, they're an instant reset button for a stressed for tired head. A reset button that both fuels and stabilises. Keeping note while checking my blood sugar periodically, I successfully remained between 5.0-6.0 throughout the day without any issue.
I didn't even crave a cup of coffee the morning after. Now, that's a cleanse.