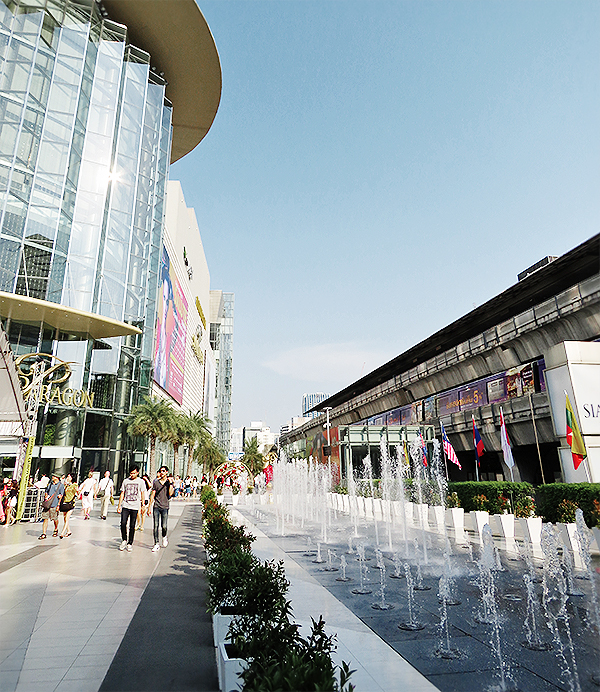 Welcome to Bangkok.
First? A quick catch-up for the noobs: having lived in Thailand during 2011, I have spent almost four years itching to return. The itch was forcibly scratched a few short months ago on a flight binge to accomodate two weeks in Bangkok and Koh Samui.
Now, back to Bangkok.
After a day or so of travelling and enjoying the greatest pictures of the Fifties aboard Qatar Airways, The Manfriend and I arrived at Bangkok's Suvarnabhumi Airport with time to kill before check in.
No place seemed as fitting an introduction as Siam.
Siam – in its simplest description – is the shopping centre of Bangkok. Everything is conveniently connected to the BTS (Bangkok's overground Subway/Underground system) and serves up a wide range of wanton goodies – from high fashion to market stalls.
A Quick Shopping Guide to Siam
– MBK: Eight floors and over 2,000 shops with its fair share of food options. A one-stop-shop for mobile phones, handbags, luggage, electronics, fashion, and more.
– Siam Square: The partially-enclosed outdoor market between the BTS and MBK. The stalls on the outer edge tend to overcharge for tourists, but great deals can be bartered on the inside. Especially for petite women.
– Siam Paragon: A mecca of luxury. From Ferraris, to Chanel, to Samsung; Paragon is a hub for the discerning shopper. They even have a digitally-run Fitness First (displaying trainer choices on LCD screens) and a basement floor full of the best national and international foods.
After a celebratory dish of tom yum goong and a sleepy shoparound, we capped our afternoon off at Paragon's Gourmet Market for some breakfast nibbles before crashing out in our Airbnb.
But more on that later…
* All photos taken with the Canon Powershot SX60, especially for this trip! Review coming very soon.