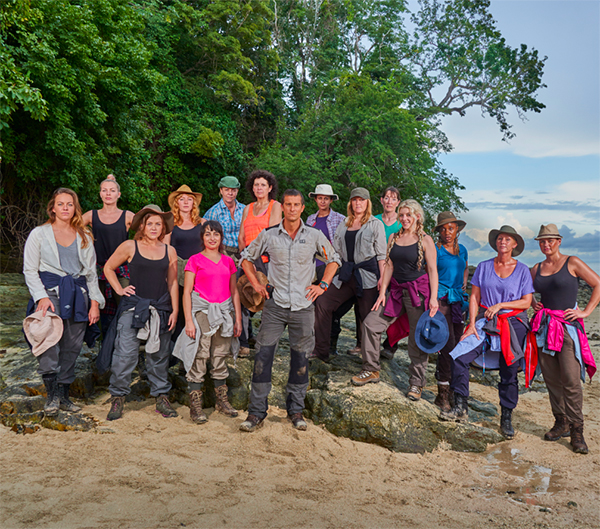 Last year, Bear Grylls rocked the nation's TV sets by throwing thirteen men on a deserted island for a month as a survival experiment, in his words, testing "modern masculinity".
For season two of The Island, he's cranked it up a notch: fourteen men and fourteen women on two separate Pacific islands for six weeks in tropical storm season. No family, friends, shelter, heat, resources, crew (it is filmed by the contestants themselves), assistance, or food and water as we know it. Just each tribe of strangers and their best intentions to keep everyone alive.
When asked to interview the man behind the series (and preview what will definitely become the talking point of every household in the country; it was gripping), I couldn't say no…
Going into the series – especially with women added to the mix – what did you expect would happen?
Bear Grylls: "I had various different theories beforehand about what was going to happen, but the truth is none of those were right."
Did either sex fall into their stereotype?
Bear: "It was a bit gender stereotypical at the start – the men were like Rambo, desperate to get on there and flex some muscle. I feed them before I go and say, 'Eat the crisps, eat the nuts, trust me you're going to need them in the next hours,' and they're gorging. The women were going, 'Oh, no, I might just have one'. I dropped them off and thought, 'This is going to get messy'. There was lots of oohing and aahing.
What happened, though, was that by the time they realised the game of survival is hard and they had to get on with it, they were beaten up, dehydrated and starving. I look at this experience they went through and I think in many ways the women had a tougher time. But they proved themselves by the end. Those that remained – and they weren't all there – earned that respect the hard way through endeavour, sweat, courage, graft, community, kindness, humility… All of these things that we think, 'Does that matter in survival?' And the answer is, 'Yes'. They showed it in spades."
And the men?
Bear: "The men had to tone it down and realise that ego doesn't help."
Does that mean a mixed sex island might happen in the future?
Bear: "I think that would be a season eight discussion. We've got a lot to explore before we get to that."
Do you think the public might interpret the show as 'men versus women' – which gender beats the other?
Bear: "Survival…it's not about gender; it's about attitude. Some people crumble when the pressure goes on, when it's been raining for four days: you're tired, beat up, missing home. Some people get a glint in their eye. The hardship brings something primal out in them. You can't call that. That's not about being a man or a woman. That's always inspiring."
Do you feel like the two-day training the Islanders receive might be insufficient to tackle the breadth of challenges ahead?
Bear: "You could totally argue that. It is absolutely bare bones minimum. It's enough to teach them how not to hack their fingers off. We don't want to give people all of the knowledge. Then it becomes a survival programme and it's not. It's about what happens to humanity if everything's stripped of you. We do purposely keep the training minimal. We want it to be experiential. You learn by mistakes. One of the key principles in survival is failure; you have got to fail. I said this to the guys in their training – get out there and fail. Don't be scared of it. Don't be scared of looking silly. Just keep trying. Then for me it's interesting, then it's an experiment, rather than show me some bush craft."
At least everyone made it back alive?
Bear: "Just."
Is it hard to sit on your hands while you watch the contestants struggle?
Bear: "I get nervous on this show because normally – if it's Running Wild or Mission Survive – I have some control, I'm guiding. The difficult thing for me is watching. I've got 28 people who are total rookies. I've given them two days training, they're dehydrated and beaten up and tired. You know what we're all like when we're tired; we make mistakes. And they're waving machetes around. They're exploring, climbing, wrestling snakes and crocs and stuff is going to happen."
Did 'stuff' happen?
Bear: "Stuff did happen and there were a few occasions where we had to get the medical team involved. On the whole it was remarkable what they achieved with so little injury."
So, what about the accusations of fakery? On both islands you've ensured there is a secure water source and enough animals to eat. Is that still survival?
Bear: "I have a duty of care. I can't drop people on an island where there's no water source and there's no rain and expect them to survive. You've got to provide some sort of sustenance. We sort of build the ultimate island. So yes, there's water, there's food, but they've got to have the strength, the determination, the resourcefulness, hiking however many hours to hunt and find this water every day. It was hell on earth."
The second series of The Island With Bear Grylls starts on Channel 4 and Channel 4 HD at 9pm on April 8 and 9 with two episodes per week; one following the men, one following the women.