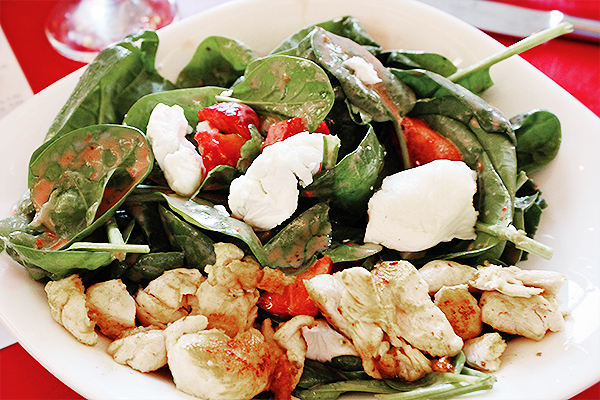 I have been to Vapiano for lunch more times than I care to admit, but never to Vapiano Fitzrovia. When I heard the restaurants were launching free gigs, I thought it was reason enough to head off to the East.
Stopping by the bar counter before taking our table, we swiped a bottle of Prosecco onto a card and settled close to the stage to peruse the menus. While The Manfriend was looking for some homemade Italian carby goodness, I was looking for fresh flavours in abundance – thankfully, Vapiano is the kind of place you can get great versions of both.
While one of London's gorgeous unsigned artists crooned over us, we made our way through finely sliced beef fillet (with cipriani sauce, Grana Padano D.O.P, mushrooms and rocket) and the Piatto Antipasti (Proscuitto tipo Parma, salami, pepperoni, roasted vegetables, homemade pesto, Grana Padano D.O.P, buffalo mozzarella, and bruschetta).
With the songstress pausing between sets, we made a run for our mains. This was altogether a much more longwinded process than ordering a typical lunch, but I have since realised that's the price you pay you multiple courses over counter service.
Eventually, we carried my beloved strawberry and spinach salad (fresh spinach, strawberries, goats' cheese, red onions, pine nuts and homemade raspberry maple dressing) and his steeped Estiva pasta plate (chicken breast, ginger, chilli, mint, sundried tomatoes, cherry tomatoes, and rocket) back to our table.
Capping things off with a few more songs and two creamy desserts (the panna cotta and crema di fragola), we sailed away on a river of ballads and bubbles. A wonderful evening, all things considered.