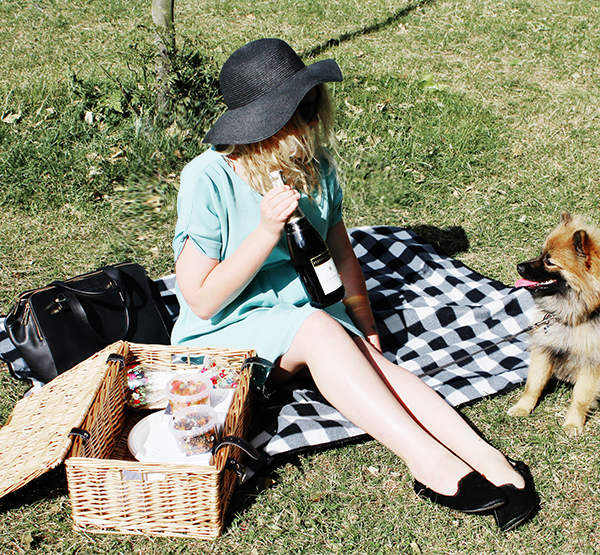 Experiencing a heatwave in London is about as common as finding someone who loves waiting for busses.
Alas, offices and their employee's social accounts were all a-Twitter last Friday when the UK was clued in to a weekend-long heatwave. Like every other Briton, I decided to go to a park. Specifically, Clapham Common. Though I don't consider the Common to be 'a sight to see', it is very conveniently located across the street from Tart and I had been waiting for a good afternoon to try out one of their picnic hampers for weeks.
With Gatsby in tow, The Manfriend and I trekked over the river, picked up our hamper (pausing to have the tarts warmed), and settled into a sun-drench patch of grass nearby.
Tart's sturdy hampers can be ordered in packages for two or four people and are packed with a picnic blanket, cutlery, recyclable plates, and glasses. Not forgetting the food itself.
I am not a fan of traditional quiches or pies so wasn't quite sure whether I'd enjoy the tarts themselves but they surpassed all expectations. After popping open our bottle of Prosecco, we halved the chorizo, roast pepper, tomato, goat's cheese & pesto and leek, portobello mushrooms, pine nuts & feta tarts to share between us and scooped multiple pots of salad onto our plates, creating a rather English mezze platter.
While I worried the tarts would be too doughy, bland, or wet (this seems to be the case with every quiche I try), they were so flavourful and moreish that we could have happily polished off two more later in the evening. And the day after.
Every bite of chorizo – chased by the fennel, grapefruit, pomegranate, watercress, chicory & sumae dressing salad – felt like a mouthful of Summer.
After a few runs around the picnic blanket with Gatsby and some new four-legged park friends, we moved onto our boxed desserts; an extraordinarily rich banana and toffee brownie and the best red velvet cake I've ever had.
Come at me, heatwaves.