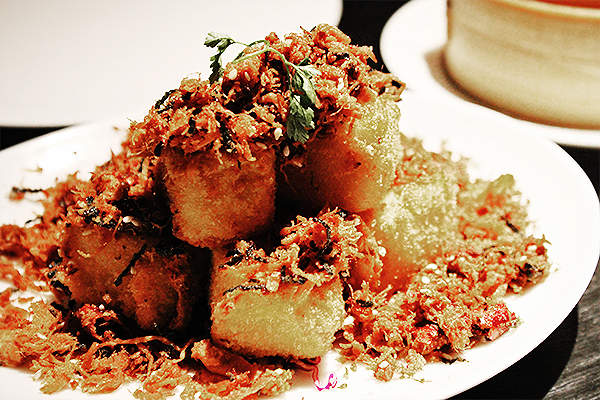 I adore Hakkasan Hanway Place; though it is in the crevices of Oxford Street's most tourist-free side streets, it is a cavernous example of the gastro group's style and culinary expertise.
They recently launched the 'Ling Ling' menu – inspired by the Eastern izakaya concept – which was designed to help guests explore limited edition Cantonese dishes and a dance-fueling signature cocktail, the Ling Ling Collins (izakaya style).
With my gorgeous friend at my side, we descended away from the sun and into Hakkasan's underground den to give Ling Ling its fair shot.
Each guest is able to choose a Seafood, Meat & Seafood or Vegetarian menu and we went for the latter two to experience as much as we could. Over three hours, we nibbled on everything from dim sum (scallop shumai, har gau, and Chinese chive dumplings) to sesame and rose petal macarons.
The highlights of each menu were the spicy prawns with lily bulb and almond (a spectacularly seasoned seafood special) and the stir-fried black pepper vegetarian 'chicken' with sugar snap peas (so unbelievably moreish and chicken-like I swapped the rest of my jasmine tea-smoked organic pork ribs with my friend to finish the plate). The entire vegetarian menu was incredible, in fact; with dishes like salt and pepper homemade pumpkin tofu and baby broccoli and preserved olive with crispy seaweed & pine nut you would find it impossible to experience Meat FOMO.
The menu is only available until August 31st, so I urge you to place it in your Summer schedule post haste.