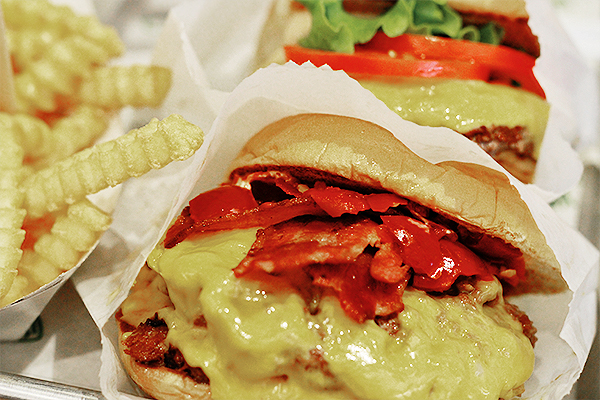 I firmly believe in shopping as cardio. I also believe in fueling for cardio. To advocate such beliefs, I can assure you that very little beats a pre-shop stop at Shake Shack in Westfield Stratford.
The US chain's steady UK takeover on recently spread to East London, but Stratford is now my favourite of the shack's outposts. With a large dining space and the delicious proximity to a retail paradise, there is simply no better spot to binge on Double SmokeShacks (cheeseburger, British free range Wiltshire cure smoked bacon, chopped cherry pepper, and ShackSauce), fresh-brewed iced teas (my sugar-free dream drink), and cheddar cheese fries.
Not forgetting their frozen custard Concretes, of course. Recent Shack discoveries include the Peanut Butter CrunchCrete (chocolate custard, St JOHN Bakery chocolate hazelnut brownie, peanut butter sauce and chocolate toffee) and Banana Pretzel Pudding (vanilla custard, paul.a.young chocolate covered pretzels, caramel sauce, banana and Maldon salt).
If they're not an excuse to go shopping, I don't know what is.