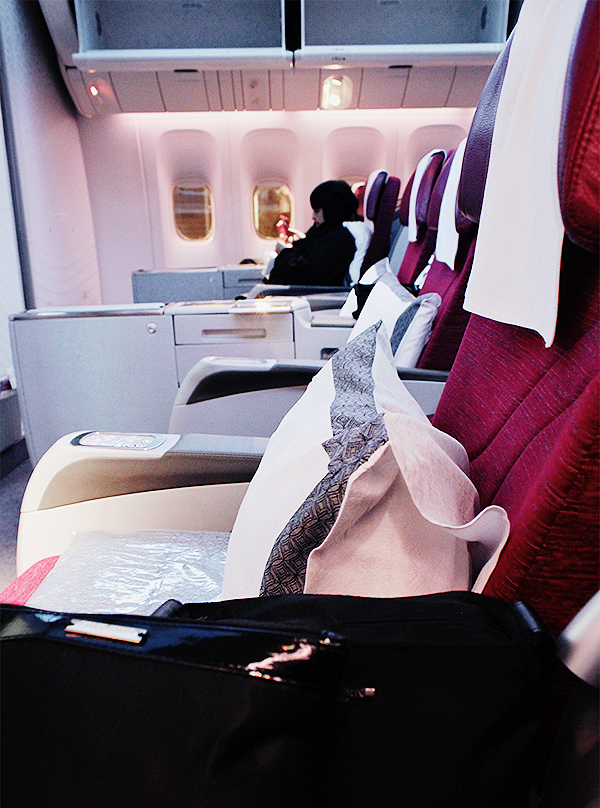 With only a few hours to turn Amsterdam's carry-on into a Qatar-ready carry-on, I was feeling uncharacteristically relaxed about the whole jet-setting affair. There is little room for any other kind of emotion when you're invited to an intimate fashion show hosted by Giorgio Armani and "the world's five-star airline", Qatar Airways.
The flight alone was set to be a dream.
With a day in Doha, the Armani show and a magical hotel review on their way, it seems appropriate to kick this set of travel blogs off at their luxurious start…
Business Class with Qatar Airways
This trip marked my first flight in Qatar Airways' Business Class and – having had such excellent service in their 'Economy' – expectations were set ridiculously high.
And then surpassed. SURPASSED, you guys.
From the second I was guided to my seat, my designated flight attendant – Yulia – introduced herself as my new BFF/personal assistant, champagne and hot towel in hand. So far, so excellent.
After a guided tour of my seat (a mini hotel room in the sky – Armani/Rituals toiletries, bottled water compartments, foldaway dining tables & entertainment centres, USB charging points, and a seat that not only massages you but folds down into a flat bed), I was handed two extensive food and drinks menus, super-soft pyjamas (no, really), and was left to peruse my evening meal options.
Put simply, you don't feel like you're flying when you're flying Qatar Airways Business Class. During the 12-hour commute to and from Doha I was able to catch up on movie recommendations (Jurassic World, Spy, and Aloha), sample multiple champagne options (Jacquart and Taittinger for my trip to Doha and non-alcoholic So Jennie for my midst-#GoSober return flight to London), and enjoy the best plane food in existence (Qatar Airways frequently feature celebrity chef-curated dishes amongst their fresh in-house options – you must try the classic Arabic mezze & mango and chilli prawns with dal tadka and tempered paneer!).
Business Class Lounge – Qatar Airways
Though I didn't have time to visit their business lounge in Heathrow, the offering in Qatar Airways' Al Mourjan Business Lounge (Hamad International's second-floor masterpiece) was spectacular enough to make up for it.
Entering via secured escalators, all prior notions of airport lounges quickly disappear. The expansive 10,000 square metre, two-storey 'Lounge' looks more like a private resort than a lounge; designer furniture, chic Arabian embellishments, high ceilings, and a stunning water feature accented by a spiral staircase. It has retreat written all over it.
On top of its visual appeal, Al Mourjan offers gourmet, buffet & deli dining options, a world-class bar, a variety of areas designated for the tranquil traveller (from 'quiet rooms' to 'family rooms'), conference rooms, a fully equipped business centre, a games room (including a Formula 1 simulator and foosball), superior shower facilities, and the same incredible hospitality that makes everyone fall in love with Qatar Airways.
Transfers at Hamad International Airport
As a Qatar Airways passenger it is highly likely that you will pass through Hamad International Airport (HIA). Be it thanks to transfer or destination, the airport's relatively small size – one terminal with five concourses – makes for a terrific trek around.
Centralised by its infamous giant teddy bear, HIA not only contains a plethora of unique duty-free destinations but one of the most impressive spa and gym facilities you could imagine. Situated just above the in-terminal hotel, access to the spa, jacuzzi, gym, pool and squash courts costs only 130 riyal, excluding kit (swim/squash) rental and treatments. I had the pleasure of experiencing a hydrating body wrap and massage during my downtime and have now been ruined for life.
All things considered, my trip to Doha was incredible before I even stepped out of the airport.
Be sure to stay tuned for the icing on the Arabian cake!