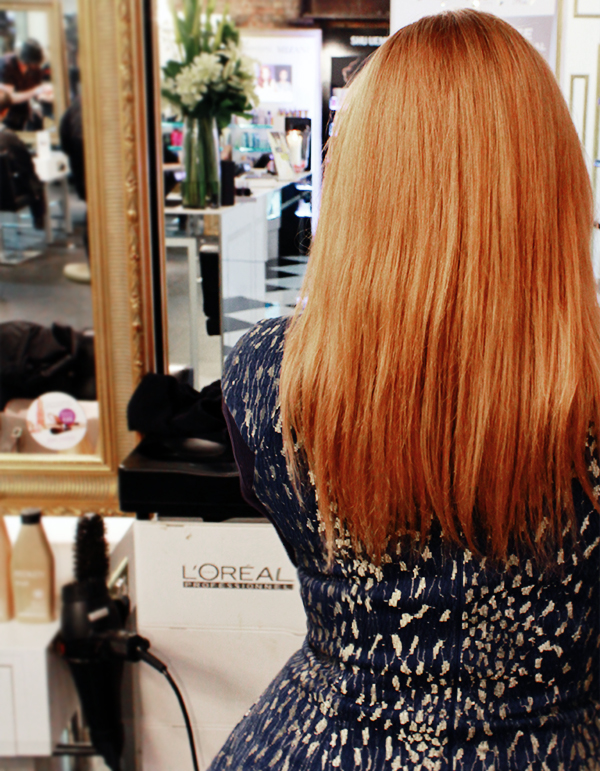 Though I have been more than happy to spend most of 2015 as a grey-blonde, the inevitable Restless Hair Syndrome kicked in last month. Showing no signs of easing up, I decided to appease my curiosity, book an appointment, and ask you all whether I should stay blonde or go red.
With Twitter (blonde!) and Facebook (red!) divided equally, I made my way to the House of RUSH Piccadilly still relatively undecided. With natural auburn hair, I knew red wouldn't look bad but wasn't sure I wanted to add such a notoriously strong pigment on top of hair I had bleached to infinity to get so light.
Thanks to Chloe's colour consultation and expertise, we chose to dye my hair with a customised ginger toner of top of the bleach. Though this means the colour isn't permanent, it will still last for eight weeks and give me the option to return to grey (or any other pastel tone) without having to bleach or strip my hair again.
The result? A healthy and beautiful head of red that looks everything from strawberry-blonde to rich ginger, depending on the light (a natural, multi-tonal effect that I love).
To wrap up, Chloe took me downstairs to The Hair Gallery and taught me how to curl my hair with straighteners – a skill I have failed to master for almost ten years – before letting me bounce away into the streets of London.