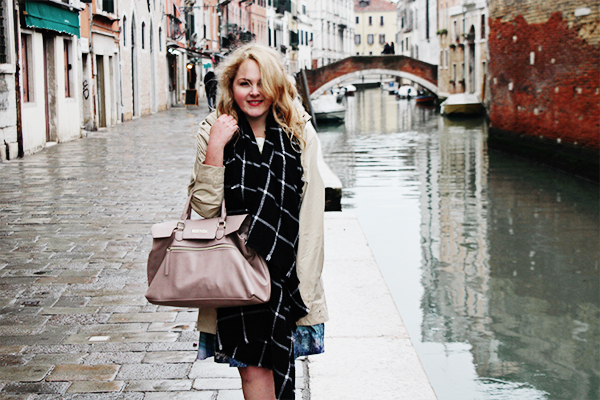 The airport bus dropped me at the hem of Venice with a rude awaking: I had little more than hazy memories of Casino Royale and friends' heavily-filtered Instagrams saved as 'preparation' for the trip.
Cards completely on the table: though I knew there were canals and boats abouding, I had no idea the city was car and road free…
Thankfully, The Boy and I's home for two nights – Carlton On The Grand Canal – was situated on the North side of the Grand Canal, meaning we could drop our luggage and explore almost the second (read: only two bridge crossings after) we arrived.
With raincoat hood lifted – #CityOfWater – we ascended the Ponte degli Scalzi (a much more beautiful and pleasant bridge than the tourist-infested Rialto) and began our adventures in the so-called 'Venetian Ghetto' (as an Italian world, this was the first official ghetto – instituted in 1516).
With food on our minds but awkward timing against us (authentic restaurants aren't keen to serve meals mid-afternoon), we went on the hunt for some cicchetti – Venice's answer to bar snacks – and happened upon a delightful plate of fresh mozzarella and charcuterie.
Our delight, of course, was undoubtedly thanks to some plentiful greetings with the house red.
Tiny street after even emptier tiny street, I fell deeper and deeper in love with Venice. The silence, architecture, and genuine idiosyncracy is a traveller's dream. By the time we had walked half the city, we accidentally arrived in a drenched Piazza San Marco (the square in which you'll find Saint Mark's Basilica and San Marco Campanila – the cathedral's bell tower).
Pausing to wring our hair and clothes out under the covered archways, we then stumbled onto a water taxi, rode a stop in the wrong direction, and eventually misdirected our way to a surprisingly wonderful dinner.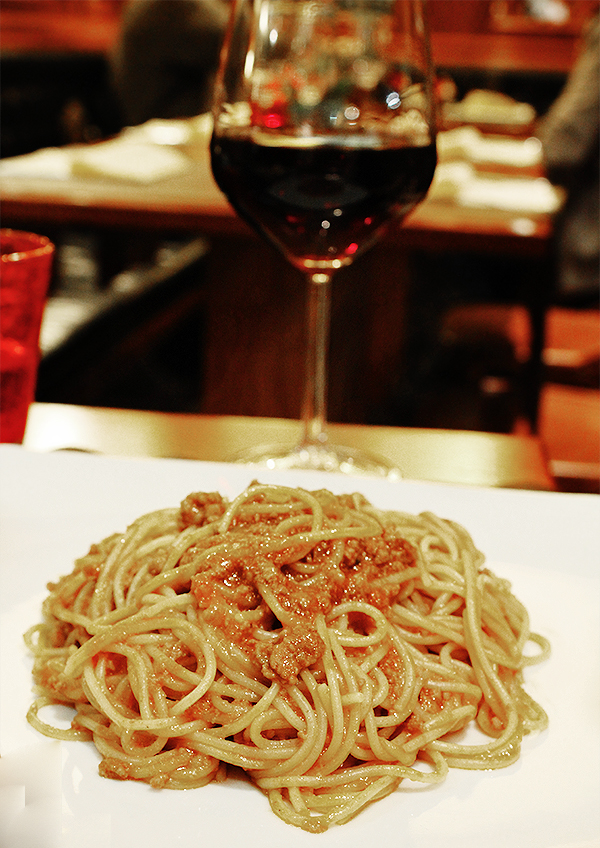 Though Venice is not renowned for its food, careful selection (ie. avoiding overtly English-friendly marketing and menus) can result in simple, flavourful Italian dishes.
Like this meal. Which I completely forgot to take the name of. But is on the corner of Calle Gozzi and Crossera (#housewineproblems).
A second day – and more of a grasp on the navigational challenges – called for further exploration.
Though we weren't tied to a schedule, our sole intended location visit – the Libreria Acqua Alta – presented itself to us faster than expected.
The 'Acqua Alta' is porn for literary nerds.
Don't worry, you're not alone.
Every entry-point is doused in the smell of old books, with each uneven room playing home to bath-tubs, gondolas, and mis-matched shelves streaming with unorganised books. Though odd chandeliers and staff members are few and far between, it is the most beautiful chaos imaginable.
With rainstorms building and temperatures dropping, we headed back to 'our side' of the city to grab two cappuccinos at Torrefazione Xannaregio (an inconspicuous gem of coffee roastery) along with two unlikely servngs of gelato from the small counter, opposite.
When I took a tumble (natch) less than 60 seconds later, The Boy decided he felt so passionately about the forsaken Speculoos gelato that he 'scraped the street bits off' and finished it.
We spent the afternoon listening to rain and watching 50s cinematic greats from our hotel room before braving the downpour for a restaurant noted in our earlier escapades, Pizzeria Dolfin (Santa Croce 81).
Though I don't find myself partial to a pizza, Dolfin's fresh selection top my very judgemental list. Not only crazy affordable (around 9 to 11 euros for a gargantuan pizza) but crazy moreish (house Prosecco included). Dolfin is an absolute must when in Italy.
On our final morning, we had no time for more than a new neighbourhood stomp before rushing our luggage over the bridge and aboard our train at the Stazione di Venezia Santa Lucia…
To Florence!
(As far as romantic breaks go, I wholeheartedly believe Venice beats Paris on almost all counts.)
What I Wore:
Peter Storm trench coat from Blacks
Floral dress
Oversized blanket scarf (similar here)
Astronomical boots from ASOS
Kenneth Cole handbag