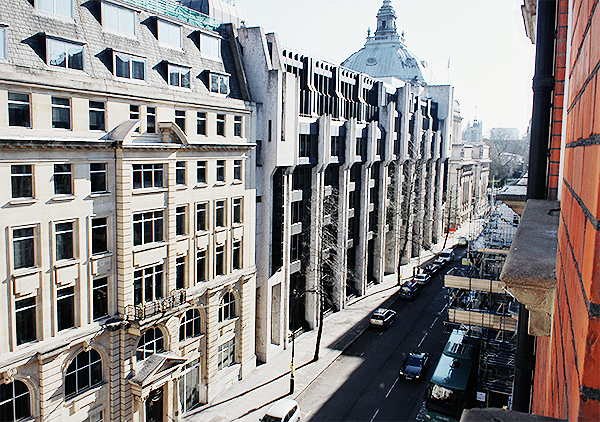 I have spent a number of my London Years hot-footing it through Victoria with little time spent getting to know the area itself.
I mean, I know the station better than I know members of my own family: I know the platforms which take you to South London the fastest, the right time to strike for the freshest bagels, and my favourite seat in every coffee shop within a mile, but I could never claim to know Victoria. Not until I spent the weekend there.
You all know I love a staycation (or, if you're new here, hello and you do now!). Playing tourist in your own city is not only a schedule-conscious way to "get away" but a real opportunity to practice gratitude…
With that in mind, The Boy and I kicked our staycation off with an ass-kicking at Gymbox. Like any good Saturday, our itinerary was heavily influenced by food so I made the most of a morning workout in their Bike & Beats high-intensity spin class.
As someone who has never 'spun' before, it was a shock to the system; I have found myself less sweaty at the end of a 90-minute Bikram yoga sesh. Thankfully, our trainer was the epitome of motivational and ensured we were focused on the beats of the music rather than the endorphin-fuelled masochism that was our morning.
The energy was so infectious I almost went to sign up for the next class of the day…
…then brunch got in the way.
Not that I'm complaining. While strapped into my spin bike, visions of bottomless bellinis and egg-topped comfort food favourites became my sole inspiration. An inspiration I could bring to life by simply showering and crossing a road.
Gaining composure, The Boy and I descended the streets of Victoria into M Restaurant's decadent chambers for all of the aforementioned (and then some). Though it had been on my hitlist for a while, it was actually the first time I had been to either of M's locations. This one – concealed under what looks like a lavish wine shop from the street – is all you could really ask for in a brunch spot: a spacious luxury interior, attentive & friendly staff, incredible food, and the option of bottomless cocktail consumption. We, obviously, opted for the latter. To start, we nibbled on pancakes (served with peanut butter anglais and fig & pear jam) and avocado-topped rye (with crème fraîche, feta and slow-cooked eggs) before moving on to confit duck (with brioche soldiers, duck egg and hollandaise) and the best chicken and waffles I've had this side of the Atlantic.
In my opinion, spin class should always end in buttermilked proteins and maple butter.
Deciding not to rinse the poor restaurant of bellinis, we Ubered up to the North end of Victoria so The Boy could take a walk through the parks while I had myself a pamper session at Grace Belgravia.
Grace is a private women-only member's club with a fully integrated restaurant, medical clinic (directed by Dr Tim Evans – Apothecary to HM The Queen and The Royal Households), spa retreat, and gym; an absolute haven for women. The entire multi-levelled space is light, airy, and luxurious in a manner fit for exclusivity, including the grooming rooms (where I snuck away to for a Graceful Hands Manicure – a cut, file and polish utilising Kerstin Florian Myrrh Oil).
Having recently allowed men to visit their female friends or partners during certain weekend hours, The Boy returned for a little health kick (in the form of some fresh-pressed juice blends) before shooting back down station-side for our next excursion.
This one was a diamond in tourism's rough and long overdue, personally. Westminster Cathedral has always felt a bit of an afterthought, you see; though I always swoon when I pass it, I had assumed it was "just another cathedral" and never ventured inside.
Westminster Cathedral is, in fact, the mother church of the Catholic Church in England and Wales and a stunning neo-Byzantine architectural feat which John Betjeman called "a masterpiece in striped brick and stone in an intricate pattern of bonding, the domes being all-brick in order to prove that the good craftsman has no need of steel or concrete". Not only that, but you can pay to ascend the small elevator in the back of the bookshop and take in unobstructed views of London from the tower.
Having found ourselves well and truly past check-in time, we took a stroll back towards the city centre to check out our temporary digs at the Conrad St James.
Situated directly across from its almost-eponymous tube station, the Conrad St James is undoubtedly one of the most convenient and celebrated hotels in London. The staff (who have an incredible knack for remembering faces) are welcoming, attentive, and ensured every part of our time in and around the hotel was the best it could possibly be.
Not to mention the room itself. Our mini-suite (The Junior Suite) was the stuff of staycation dreams; an open-plan living area of work, play, and sleep separated by a revolving TV and connected to a luxurious marble bathroom (bath, rain shower, Aromatherapy Associates amenities included) & expansive closet corridor. The room was well-designed and comfortably chic in every way. So much so I considered nixing the rest of my plans and becoming a – rather luxurious – recluse for the rest of the day.
Regardless, we popped into the executive lounge (access is included with all suites), rolled around on the bed like children in a ball pit, and freshened up before weaning ourselves away to do some pre-theatre dining.
Though we were still quite full from brunch, we knew we would be starving before the end of our forthcoming evening so decided to fuel on the beautiful tapas-style delicies of NAME.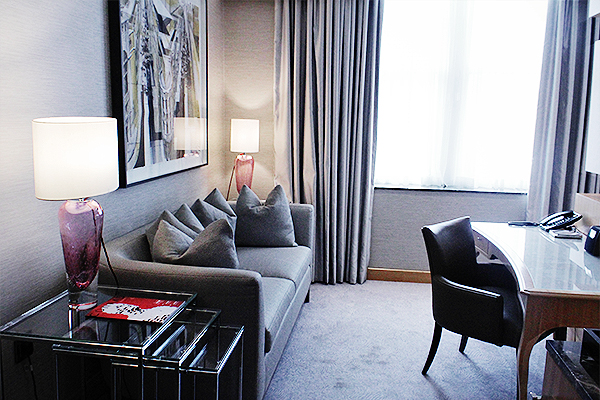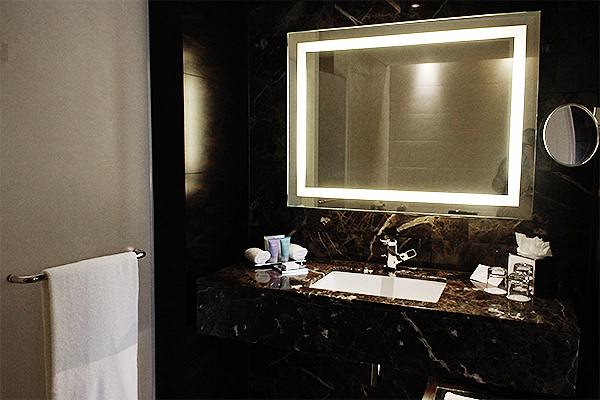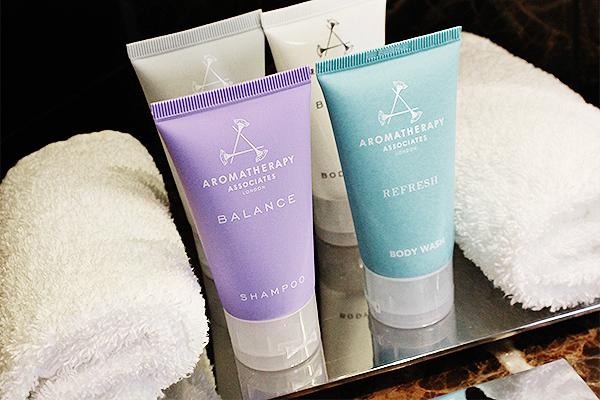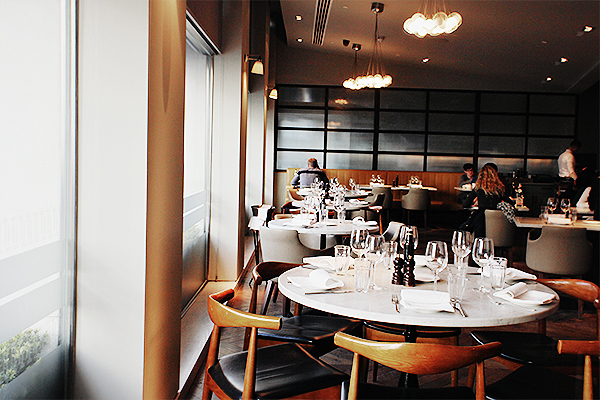 To suit our time constraints, appetites and omnipotent foodie tastes, we followed in the footsteps of our recent trip to Venice and headed to Tozi for their celebrated Venetian sharing plates.
Initially, we considered ordering from the pre-theatre menu but saw far too many enticing options on the full menu to commit. Options like their creamy Burrata (served with heritage tomatoes & basil), Parmesan & lemon-topped Bresaola, Venetian-style gratinated scallops, Cosce di rana (with fresh herb mayo – Google it, if you dare), and an indulgent but perfectly-sized plate of buffalo ricotta ravioli with black truffle for two.
Whether you have all the time in the world or an hour to spare before a show, Tozi provides a beautifully-marbled space to enjoy a culinary journey of your very own. One so friendly, delicious and relaxed you might even consider returning the following day for lunch…ahem…ALAS!
We wrapped up our evening with Forever Plaid at St James Theatre. Though neither of us had been to the theatre before, its intimate nature really piqued our curiosities so we decided to go in with zero research or expectations.
Thankfully, the show was a roaring success. A four-person production of harmonic aptitude, music from memory lane, and Jon Lee – one of my most important first loves (better known as the blonde-haired dreamboat from S Club 7).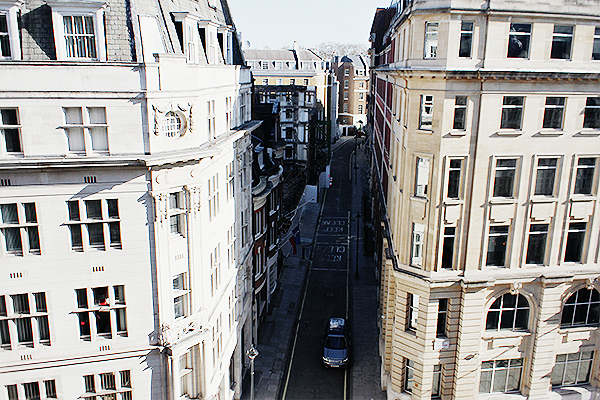 The following morning, we woke up to an inexcusably large room service order hung on the door by two musically-giddy baffoons the night before.
I'm not saying it wasn't demolished. It was. It really was. And it was the best English Breakfast I've ever had. I just couldn't consume much more than water for the rest of the day.
When my food baby eventually subsided, we returned to the Conrad for their English Country Garden afternoon tea with free-flowing champagne.
Stomach space imperative (I recommend a 48-hour fast beforehand).
The spectacular tiered feast hosted all the usuals (savouries, sweets and scones) with unusual flair – chicken & basil tarts, freshly-baked lemon thyme & candied black olive scones, olive oil cakes with bay leaf cremeux & blood orange, and more. It can't be missed.
In fact, none of the above can.
Rule Victoria.