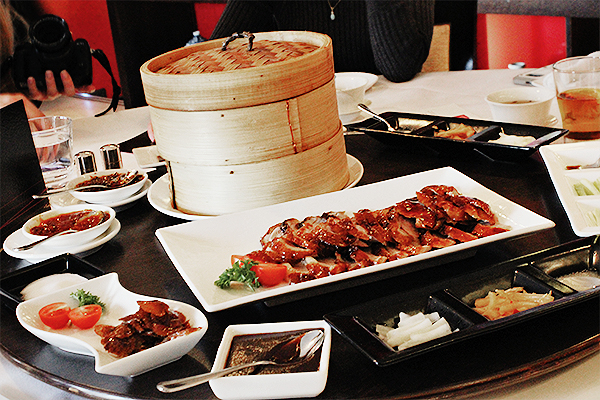 In celebration of last month's National Tea Day, I set off on my first visit to a restaurant that has been on my Asian-obsessed hitlist for quite some time. Situated at the top of the Royal Garden Hotel, Min Jiang is a stylish space renowned for haute Chinese dishes as breathtaking as its birds-eye view of Kensington Palace.
To put Min Jiang to the test, our discerning table set off on a food and tea pairing of belt-breaking proportions.
Kicking things off with an Ooling Tea-Tail (Havana Club 7 Year Old Rum, Malibu & Spring King Oolong Tea with a slice of orange – the cocktail of my rum-loving British dreams), we quickly segued into a small steamed dim sum platter paired with Dragon Well Lung Ching Organic.
Slightly underwhelmed by the dim sum (I am a prudent judge of all things dim sum), I was very pleased to find the next dish – their 'legendary' wood-fired Beijing duck – the best I have had of its kind. As our paired cup of Formoda Oolong was poured, we were bestowed with a number of their most popular dishes (pan-fried Dover Sole fillets in XO sauce, diced rib-eye of beef with black pepper sauce
& seasonal vegetables stir-fried with oyster sauce) before wrapping our shareable savouries up with leftover duck-dusted fried noodles and a cup of Yunnan imperial FOP.
Weighed down with the most caffeinated bellies of Chinese food you could imagine, our bravest table companions picked at a beautiful seasonal fruit platter while the rest of us settled in with a farewell cupful of China Lychee Lizi Hongcha.
A meal at Min Jiang may not come cheap, but with unbeatable views, intimate luxury, and a perfect Beijing duck on the cards, it comes at great value.