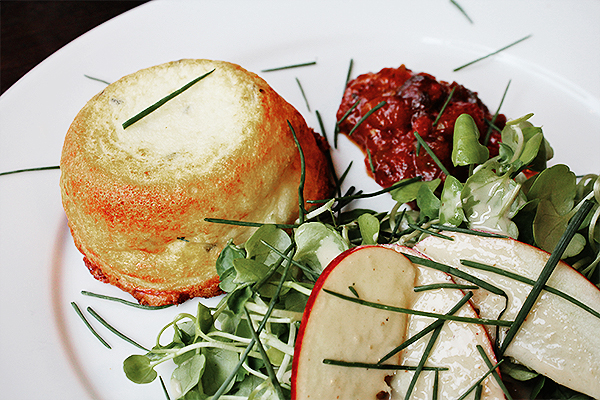 The last time I visited a Cafe Rouge I was rather hungover. Two of my very wonderful amigos had tied the knot the night before and decided it would be the best place to invite the wedding party to refuel post-open bar.
I remember a lot of carbs and little more.
When people started buzzing about the new menu at Cafe Rouge I was intrigued, so made a significantly more sober effort to put it through its paces at their flagship restaurant outside St Paul's Cathedral.
Get a table by the window if you can. The view is spectacular.
Underneath the chain bistro's hand-foiled ceilings, The Boy and I put our critic faces on and nibbled some moreish saucisson bon-bins (Roquefort-threaded pork charcuterie balls) before ordering up a storm.
To start, he opted for the classic Crevettes (king prawns in garlic & smoked chilli butter with a sliced baguette) while I went for the twice-baked Brie soufflé – a lighter yet undeniably delicous option served with a watercress, apple and chive salad.
This was in preparation for a less-than-light main course. Don't worry, I haven't changed.
Having put a lot of effort into their steaks for their updated menu (all of which are premium grass and grain-fed British Charolais), I couldn't pass up a 7oz fillet and frites. I ordered mine medium-rare with two sauces (Bèarnaise and a specialty snails & garlic butter) and had to stop myself from licking the plate clean.
With perfectly cream-crunchy dauphinoise potatoes, spinach and a tomato & red onion salad between us, The Boy decided to treat himself to a childhood favourite – Boeuf Bourguignon – slow-cooked in red wine, smoked bacon and mushrooms with green beans and carrots on the side.
As we are both dedicated fans of Argentinian Malbec, we decided to trial a bottle of Pays d'Oc from the wine's home in the Languedoc region (South-West France) and found it to be a surprisingly silky, full-bodied and plum-heavy alternative.
Powering on, we ordered a fondant aux chocolats (a tad dissapointing, as the overcooked centre had no melt) and frozen salted caramel cream parfait with malted pecan crumb and fresh raspberries (as good as it sounds).
Bar the small dessert faux pas, it was a truly commendable French cuisine craving-beater.