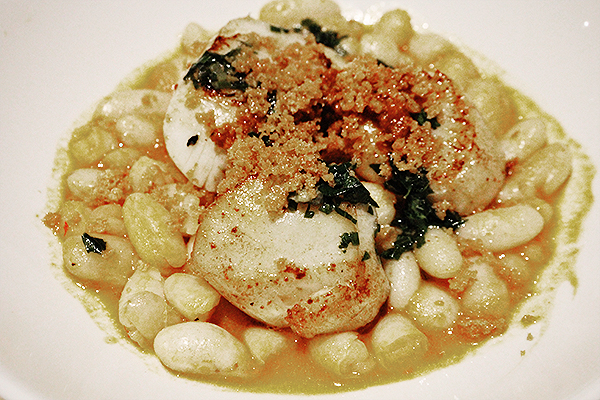 As my previous travel blog on Belfast would suggest, Hadskis is a definitive diamond in the rough.
Though the restaurant is hidden between Hill Street & Donegall Street (in fairy light-covered Commercial Court) and only a few years old, Hadskis has developed something of an unblemished reputation. If I had time for one fine dining experience during my time in Northern Ireland, this was destined to be it.
As the space is modest and uncramped, reservations are recommended; we only managed to book in for a 9pm slot but were thrilled to receive impeccable service from the get-go. Service typical of waiters and chefs that haven't already been on their feet for hours.
This isn't, however, a love letter to the service alone: the food is locally-sourced and Michelin quality.
We started with perfectly cooked N'duja-dusted Kilkeel scallops on a bed of cannellini beans and a small serving of jerusalem artichoke risotto with crispy garlic & creme fraiche (also available as a main).
You know that feeling you get when you kiss someone for the first time and you find yourself unexpectedly euphoric? That is the Hadskis feeling.
Continuing their courtship, we moved on to a "Hannan's Spiced Meatballs" (with orecchiette, harissa & oarmesan – a small serving, per our filling starters' dictation) and Chicken Cotoletta with grilled gem, topped with Cafe de Paris Butter.
I could pretend the truffle chips with parmesan and honey-roasted root vegetables simply came with the dishes, but no. We ordered those. And they were worth every extra undone button.
By this point we had hit the finish line and decided to run back a proverbial mile to explore the culinary talents of the sweets section. A meringue-scattered Bannoffee Mess for the gentleman and a Creme Brulee-inspired cocktail for myself.
A benefical illustration of gluttony and perfection, indeed.