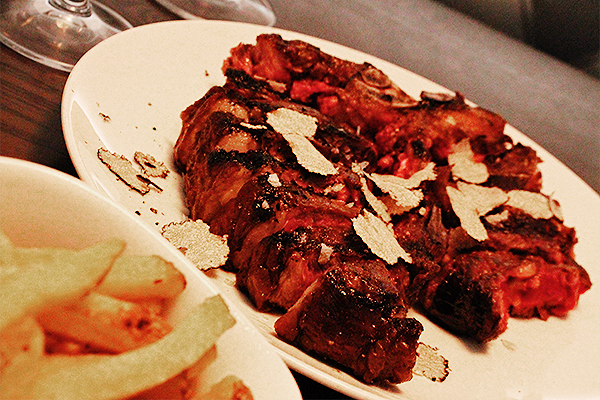 After a wave of multiple foodgasms over M Restaurant's brunch during my recent London staycation, I made a point to return to trial the restaurant's night-time offerings.
Having already been wowed by the venue and its faultless service, my critique was focused on their expansive 'world food' menu (read: an unusual mix of Australian, Japanese, and everything in between). Because a menu that spans from bone marrow garnishings to Tim Tam desserts concerned me.
Without reason, of course. Every millisecond of the dinner was orchestrated to gluttonous perfection.
Beginning our evening at the bar, Victoria Street's most secret-wielding mixologist created a carefully complex and science lab-worthy cocktail blending smoke, rum, and secrets. Literally. Homeboy will not part with his belt of unlabelled ingredients for anything.
It was, hands down, the best cocktail I've had in years. But that was only the beginning.
Taking to our dinner booth, I started experiencing an overwhelming sense of menu FOMO so was pleased to receive a spoon of kangaroo tartare (mixed with mushrooms, nasturtium and egg yolk) from the kitchen. One less inevitably great dish to choose between.
We ended up beginning with salmon sashimi (served with caviar, cucumbers & capers) and buttermilk fried chicken (a "posh KFC" – as our waitress described it – served with pickles, bread & 'Firecracker' sauce) before moving on to a beast of a main: the USDA prime T-bone from Kansas' Creekstone Farms.
I am actually enviable of my former self.
We ordered it beneath black truffle (shaved fresh at the table), medium-rare, and paired with the world's most delicious whole red cabbage & chips.
We opted to pair each course with its most appropriate grape – the best of which was the Alpasion 2012 Malbec which has potentially ruined all Alpasionless steaks for life.
Rounding an incredible evening off with their moreish white chocolate ice cream (a magical combination of olive oil sponge, meringue, lemon & cucumber) and an off-the-menu gourmet cheese board, M Restaurant secured itself as my go-to occasion restaurant.