There are work trips and there are werk trips. The following three day adventure in Lanzarote with Thomas Cook Airlines – a blogger trip alongside a pack of fellow talented digital types – proved to be the latter in no time at all.
Within three days, strangers became friends, standing on top of an active volcano became a reality, and my misconceptions of Lanzarote (as a 'party destination') became a distant thought.
But you'll have to keep reading to find out why…
Day One
After an afternoon of duty free shopping, manicures, and literal lounging in Birmingham Airport, we hopped aboard Thomas Cook Airlines' heart-accented plane and zipped up and away to Lanzarote.
One good night's sleep later, we embarked on our our official Day One with a trip to Timanfays National Park. In the southwestern part of the island, the national park plays host to Timanfaya volcano – its active volcano and namesake – and a mass amount of scenic volcanic landscapes. To protect its flora and fauna, access to the park is strictly regulated with very few closed road excursions leading from a viewpoint car park.
We were lucky enough to take a small coach of our own, yet become the karmatic victims of a temperamental clutch and managed to get stuck sliding off the top of a volcano with a very steep drop to volcanic wastelands.
We got out before our untimely deaths and walked a bit. But you'll see that in the video.
After our near death experience, we headed for lunch by the sea at Restaurante Casa Torano but moved inside before the uncharactertically wet skies opened over the biggest serving of paella any of us had ever seen.
Twelve full bellies later, we took our respective glasses of wine and headed out into the emerging sunshine for a frolic on the beach and one too many serves of honey rum.
Our next travels took us to the cove of El Golfo to cruise the natural phenomenon of the Green Lagoon. Though the landscape itself is beautiful, the cliffside lagoon – created by trapped sea water – has turned a striking shade of green thanksto the algae which lives there.
After a brief stop in the picturesque and white-washed Yaiza district (an empty village twice voted the prettiest village in Spain), we wrapped our first day with light bites at Mirador las Salina and a sunset that changed colour every ten minutes or so.
Day Two
After a beachside yoga session with this gorgeous thing, our band of bloggers took a bright and early bus ride to the with a trip to the Cueva de los Verdes. I may have seen some beautiful caves in my time, but these lava tubes are something special. At one end, the cave actually continues 1.5 kilometres under water but the two illuminated kilometres you can tour are filled with enough unusual sights and optical illusions to earn must-visit tourism credentials of their own.
Hiking from the ground into the long-awaited warmth and sunshine, we took an hour to enjoy the viewpoint at Mirador del Rio before heading to family-run winery, Bodegas La Guigan.
Over the course of the afternoon, we enjoyed a beautiful lunch at their on-site restaurant – Bodegas Rubicon – and learned about the winery's incredible roadblocks and tribulations (making wine from little rain and volcanic soil is no walk in the park!).
Naturally, the rest of our day was lost somewhere between wine cellars and sunrise.
Day Three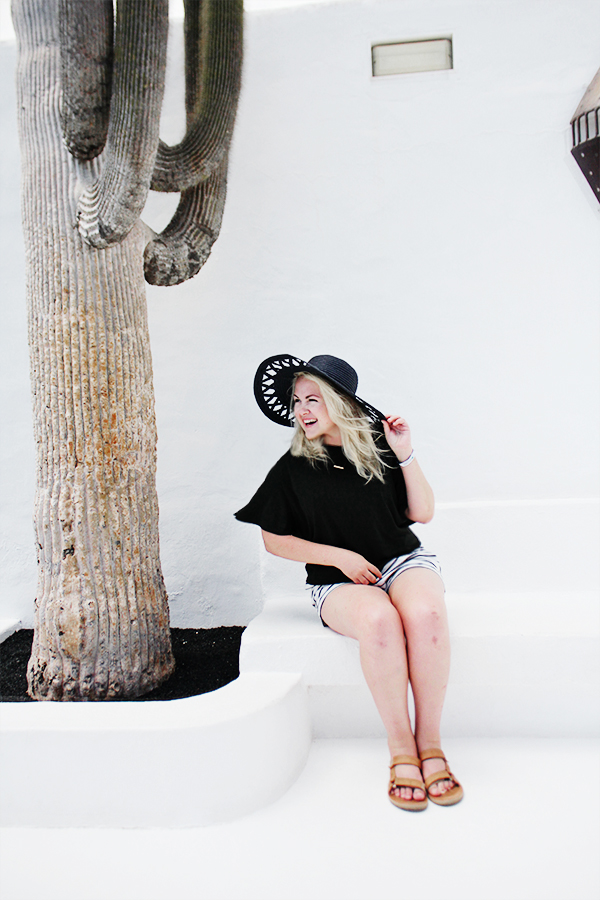 After a bit too much fun in the sun, I hauled myself out of the a lie in for a cortado and walk on the beach with a few of the girls.
The César Manrique Foundation was one of my overall highlights. The 'Foundation' was actually the artist's own – now posthumously existing as a volcanic ode to his work and character. Though it looks like nothing special from the road's approach, the house is a mind-blowing representation of the relationship between art and nature. One even the art-ambivalent can enjoy.
Our final, glorious destination was the fishing village of Caleta de Famara. We spent the afternoon wandering sleepy Spanish streets, cheering surfers from the sand, and enjoying a moreish selection of local dishes from Restaurant Sol before bidding the island adieu with yet another authentic and unfathomably-coloured sunset.
Be sure to watch the video (below) and let me know how Lanzarote lived up to your expectations!