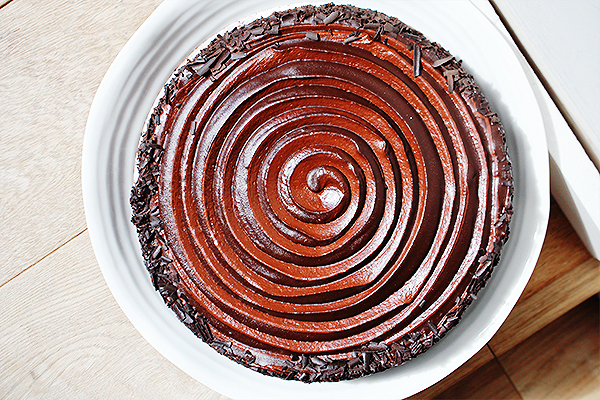 When the launch of Flora Freedom and The Boy's birthday came along at the same time, it only seemed serendipitous to make the most gloriously gooey vegan chocolate fudge cake you'll ever lay lips on.
I've made a non-vegan version of this bad boy a few times but as I've started eating mostly vegan and vegetarian food at home, I thought I'd challenge myself to make a vegan alternative. The good news? It is better than its non-vegan counterpart.
This is thanks in large part to Flora Freedom; the brand's new plant-based butter alternative is completely free from artificial preservatives, colours and flavours, has 60% less saturated fat than butter, and is Vegan & Vegetarian Society approved.
Whether you're swapping dairy out for a day or a lifetime, this spread (and this cake!) are essentially vegan squad goals.
Ingredients:
For the icing and filling –
75g Flora Freedom
175g icing sugar
3 tbsp cacao powder
1 tbsp of soya or coconut milk
For the cakes –
175g self-raising flour
2 tbsp cacao powder
1 tsp bicarbonate of soda
150g caster sugar
2 tbsp ground flaxseed + 6 tbsp water mixture (works as an egg replacement)
150 ml (1/4 pint) sunflower oil
150 ml (1/4 pint) soya or coconut milk
2 tbsp golden syrup
To garnish –
Vegan/dairy-free chocolate of your choice, grated (I adore the Artisan du Chocolat Orchid & Orange Blossom Dark Bar, for flavour, but it is completely up to you!)
How-to make the best dairy-free chocolate fudge cake, ever:
1. Pre-heat your oven to 180ºC/350F then grease two 18cm (7-inch) cake tins.
2. Sieve the flour, cacao and bicarbonate of soda into a bowl, followed by the sugar. Mix well.
3. Make a well in the centre of the bowl and add the syrup, egg replacement mixture, oil and 'milk' of your choice. Beat well with an electric whisk until smooth.
4. Spoon the mixture into the two tins and bake for 25-30 minutes until risen and firm to the touch.
5. Remove from oven and leave to cool before turning upside down onto a cooling rack.
6. To make your icing, place Flora Freedom in a bowl and beat until soft. Gradually sift and beat in the icing sugar and cocoa powder then add enough of your chosen milk (a splash tends to be enough) to make the icing soft and spreadable.
7. When cool, ice the top of one cake with your icing and sandwich the other cake on top. Then cover the sandwich's sides and top with the rest of the icing.
8. To 'jazz it up', use a knife to carve a light swirl into the top of the icing (it's not easy – as my mistakes show! – but perfection isn't necessary) and garnish the sides with your grated chocolate pieces.