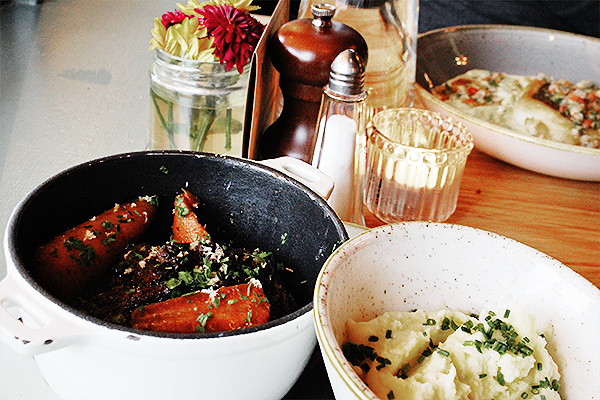 I was not sure how well I'd get on with an all-day British Brasserie concept ("…so, pub food with nicer cutlery?"), but Joe Allen owners Lawrence Hartley and Tim Healy piqued my interest by launching exactly that – Mustard in Brook Green.
The concept – which they plan to grow – dedicates itself to sourcing ingredients from the nation's finest suppliers and producers before turning them into flavourful and mostly-healthy brunch, lunch and dinner dishes. Transparently trendy but alluring all the same.
I booked in for an early mid-week dinner and was fortunate to arrive in time to nab a sun-trapped window table.
Studying the menu over a glass of Furleigh sparkling wine (toasty peach aromatics from Devon), my dinner date and I decided to split our dishes equally across land and sea. To start, we shared the lightly-fried Cornish squid and crispy free range pork belly straws (served with spiced crab apple sauce) – the latter of which was so delicious I attempted to swap the remaining school of squid.
Gluttony prevailing, we paused to inhale a basket of freshly-baked fennel & linseed bread between courses. A bad move, in retrospect of the meal's volume, but completely worth the food baby.
The real culinary expertise arrived with our mains; the ale-braised Scotch beef cheek (served with horseradish, glazed carrots & creamed potatoes) for myself and coastally-sourced natural smoked haddock (with potatoes and a ham & chive sauce) alongside crisp chips and raw shaved vegetables for my gentleman friend.
One too-tempting-to-resist flourless chocolate cake later, we licked the clotted cream from our lips and accepted defeat.
Albeit still in its infancy, Mustard cuts the eponymous.