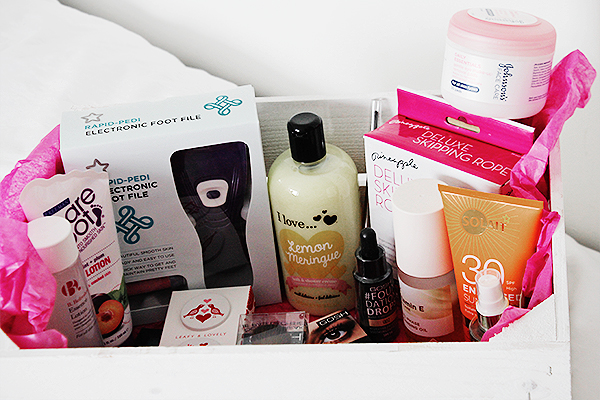 My Superdrug addiction is no joke. Be it for a curious lipstick stock up or bits and bobs to help with my ever-expanding fitness goals, I seem to wield my Beautycard as often as my actual bank card.
Recently, I decided to celebrate the Health and Beautycards 5th birthday by spending an accumulation of points, taking advantage of their limited time specials, and exploring all things #TeamMe (they've launched an Olympian-led campaign to inspire everyone's personal health and fitness goals).
The below list, though expansive, has my gold star Lela London seal of approval.
Products featured:
Vitamin E dual phase cleansing oil – Eye makeup removal's BFF
Freedom ProStudio priming water – Primer and post-makeup highlighter. Amazing.
B Refreshed essence lotion – Smells like fruity ginger heaven and makes skin super soft after-cleansing.
Johnson's gentle eye makeup remover pads – Not as thorough as the dual-phase but perfect for lazy evenings.
Cherry & Macadamia body scrub – Cheap, cheerful, and the perfect holiday scent.
I love lemon meringue bath and shower creme – Philosophy for a quarter of the price.
Rapid Pedi electonic foot file – Quite simply the best I've tried.
30 Solalt Enhanced sun lotion – I go through stacks of SPF in the Summer and this is one of few that are both moisturising but water-resistant!
Pineapple deluxe skipping rope – A traveller's best fitness friend.
The make-up:
GOSH Foundation drops in 002 Ivory; (y'all know I love them)
Revolution Iconic Pro Palette – An incredible dupe for the Lorac Pro 2 palette (unavailable in the UK) and so easy to blend.
GOSH 9 Shades Shadow collection in To Enjoy In New York – If green eyes could only use one palette…
GOSH Mineral powder brush and GOSH Mineral Powder in 002 – Naturally matte perfection skin in two simple products (perfect for the gym bag).
L'oreal lasting drama gel eye liner in Black (+ brush) – I have been meaning to try this out forever and love how smooth it is.
Freedom eyebrow pomade in Taupe – I would only use this for a night out as it takes a little more work than pencils, but it is a fantastic dupe for Anastasia Beverly Hills' pomades.
MUA eyebrow pencil in Blonde – Perfect brows in seconds.
Double Extension waterproof mascara – False lashes without the hassle. Makes an insane different.
MUA intense colour lipliner in Caramel Nougat and GOSH lipstick in Nougat – My everyday nude lip dream. The latter of which smells like chocolate. See them at work in my Instagram, below!
Revolution liptstick in Looking Ahead (dupe for MAC's Twig lipstick) and Depraved (true purple).
MUA lipstick in 1 (a rich blue-red), 13 (a beautiful true red) and Vintage Rouge (for lips straight out of Old Hollywood.)