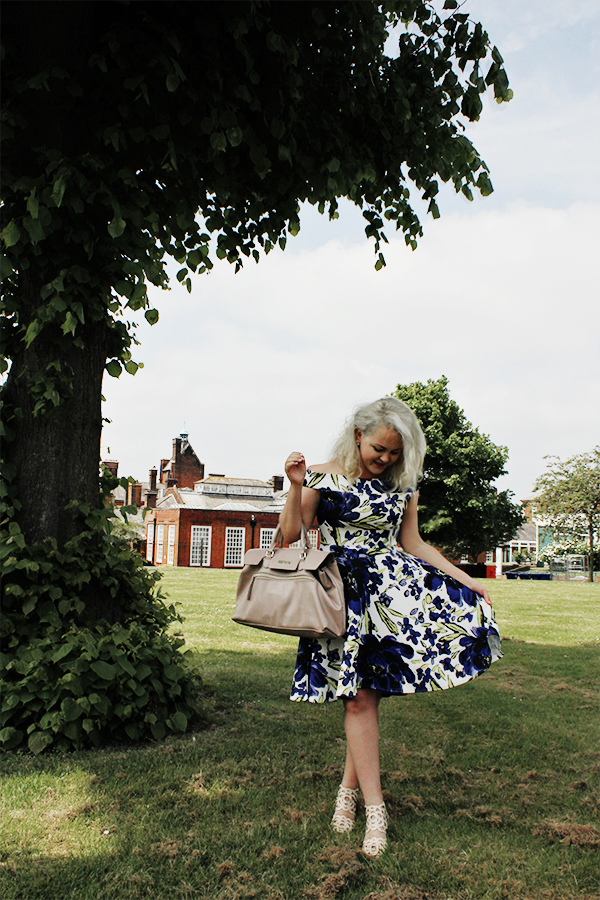 What started as a last-minute romantic getaway to Brighton turned into an eleven-mike hike across the Seven Sisters. Death-defying cliffs and all.
But I'll tell you more about that, below…
What I Wore:
Floral print Bardot dress from Quiz
Heels from Sargossa (similar here)
Handbag from Kenneth Cole
Leaving London mid-afternoon, The Boy and I hopped on a train and arrived in the seaside resort town in just over one hour. Being almost exactly the two-year anniversary of my last trip to Brighton, I was thrilled to find the saxicoline town just as I had left it; sunny, sweet, and spiffy as ever.
Starting in The Lanes (Brighton and Hove's quirky alleyway collection of independent shops and restaurants), we spent our afternoon exploring all the little corners we could, walking along the pebble beach, dancing up and down the pleasure pier, and playing air hockey so intensely that the game switched off on us.
Having walked up an appetite, we headed inland to grab dinner at Bankers (The Boy's local partiality) and brought our brown-bagged fish and chip banquet back to the beach to watch the sunset.
The next morning, we set off on a ten-plus mile hike from Brighton to Eastbourne. I had never embarked on such a hike before, but could not recommend this route enough. The Seven Sisters are a series of chalk cliffs that face the English Channel between the towns of Seaford and Eastbourne. Thanks to a lack of modern development, they are less famous but more white (!) than the White Cliffs of Dover and offer a few thigh-testing hours of hyper-eroding but currently unparalleled English ocean landscapes. 
The triumphant descent into Eastbourne wrapped the twenty-four hours up with an unexpected troupe of manicured seaside gardens and an ambush of hunger that sent us straight to the train station for promise of Chai Wu.