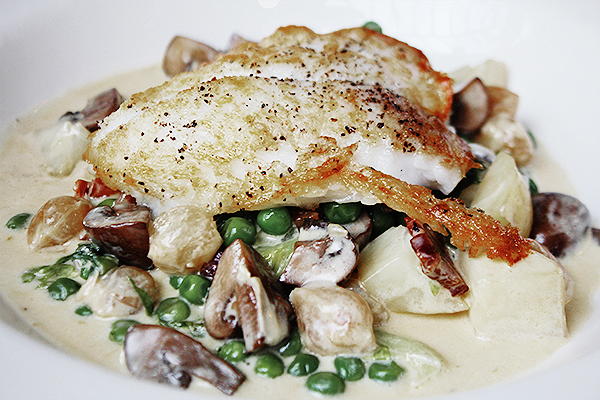 I don't love to do restaurant reviews in my so-called "time off", but some opportunities are too good to ignore.
Ben Tunnicliffe is one of Cornwall's most celebrated foodie heroes. And I was staying a short drive from his eponymous restaurant.
After his arrival in 2001, Ben immersed himself in Cornwall's best kitchens – so much so it resulted in a Michelin star (for his work at tarting at The Abbey in Penzance) in 2003.
I booked in and spent the day leading up to the dinner hiking across Cape Cornwall and Botallack's seaside mining ruins to work up the appetite required for Michelin-tinted feasting.
It took seconds for me to fall in love with the restaurant.
Nestled into Sennen Cove's beachside, Ben Tunnicliffe is modern and elegant enough to flaunt itself as a dinner destination, yet has a very cosy, very local feel that draws crowds for casual drinking and dining. The sunlit terrace doesn't certainly doesn't hurt, in either respect. Naturally, we chose to have a glass of bubbly on the terrace before moving inside for dinner.
Once introduced to our charmingly and bizarrely bristly waiter, we thumbed through the menu and decided to throw all non-Cornish regard out the window; seafood was the only option.
We shared a little bit of everything – classic mariniere mussels (in white wine, garlic, parsley and cream), crab claws with tarragon aioli, a fillet of turbot (served with peas, pancetta, lettuce, mushroom & silver skin onions) that melted in the mouth, and an unbelievable scallop, crab & john dory linguine with asparagus and herbs. Each dish was a triumph in its own right, but the latter absolutely blew my pasta-indifferent mind.
Hours passed between wine menu explorations (of which there is a tremendous selection) and trips to the terrace before we found enough room to night-cap with an Eton Mess and decadent chocolate brownie (served with mixed berries and clotted cream).
Ben Tunnicliffe may be a trek from our beloved city, but I imagine I'll become as 'regular' as a Londoner can be.