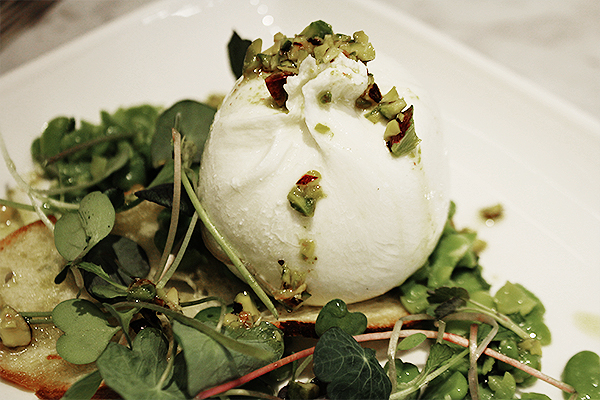 Earl's Court has always met my foodie needs with indifference. Which is a shame, as I have spent a number of hungry evenings at The Troubadour to appease my musical needs over the last seven years.
As soon as I found out Theo Randall had opened Theo's Simple Italian just around the corner from the station, I booked in for an anticipative lunch.
Having dedicated the last ten years of his career to Theo Randall at the InterContinental, Theo's second culinary launch has promised to do exactly what it says on the tin: simple, fresh and authentic Italian food created with the best of the best local produce (Simple Italian's Head Chef – William Leoni – was Theo's Chef de Partie at the InterContinental and promoted for his dedication to the latter).
Promising, to say the least.
With one of my favourite lady friends in tow, I took my seat in to one of the restaurant's bright and rustic banquettes to put the menu through its paces.
We decided to do Italian the British way and turn cicchetti, antipasti, primi, secondi, contorni, and dolci into a three course meal. To start, we picked through a wooden board of sumptuously sponge-y Focaccia (with rosemary, sea salt & olive oil) and calamari fritti (paired with lemon aioli) with a plate of pistachio-oiled Burrata-topped crushed broad beans on the side. Long-term readers will know I am a perspicacious connoisseur of the latter cheese, making my verbal appreciation of the dish a genuine feather in its bow.
Wanting to try a bit of everything (though I would have been just as happy had the rest of the meal been comprised purely of burrata), we then decided to split two small portions of Linguine (with clams, Sardinian artichokes and bottarga) and Pappardelle (with an oxtail ragout) alongside pan-fried Sea Bream and grilled vegetables. True to form, each dish featured a shrewd example of flavour play that complimented the well-sourced ingredients without stealing the limelight.
Though the thin slices of gluten-free vanilla sponge cake paired with Italian Chantilly was far too dry, dessert was saved by the chocolate cremosa millefoglie; light chocolate cream cased in sheets of crisp pastry and topped in tart berries.
Though I ever had the pleasure of dining under Theo's reign at The River Café, Simple Italian is one happy compromise.