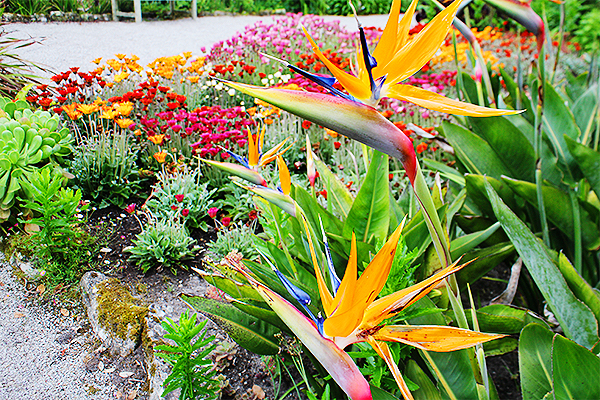 As a fully-fledged British person, I come pre-loaded with a penchant for weather chat. Much to my own dismay, this became very clear in the days leading up to my 12-hour trip to the Scilly Isles.
In my defense, the day would take me island hopping from pocket-sized plane to wooden dinghy. Better-than-torrential weather would have been comforting.
With no such luck, The Boy and I donned the most weatherproof items of clothing and headed to Lands End Airport at the crack of dawn.
The airport experience was something else; the only building itty bitty enough to steal Ras al Kaimah's coveted Smallest Airport I've Ever Seen Award.
When some of the rough weather cleared we were given the green light to board the toy plane, so rushed to the doors and ascended into the sky within minutes. I have never been so entertained in my life. Sitting no more than two feet from the pilot, I transfixed myself in his every gesture, switch, and movement as we bounced along between sea and xloud.
We landed on the 'main' Isle of Scilly – St Mary's – less than twenty minutes later, collected our "luggage" from their similarly minute airport's solo conveyor belt, and hopped in the world's most entertaining shuttle bus.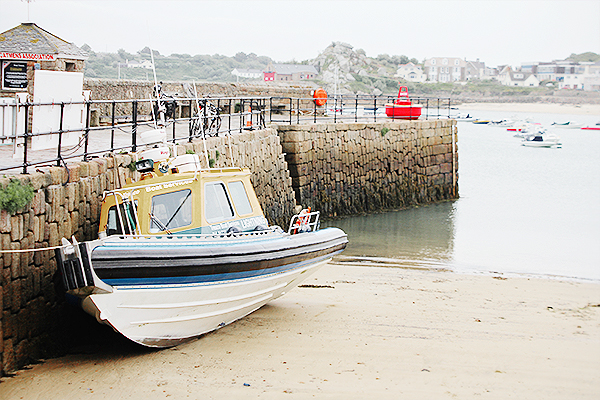 "Welcome to the 1950s!', the driver laughed between dropping a few local customers off at their respective doorsteps. By the time he could get through the highlights of his u official introduction to the Isles of Scilly, we had arrived in the town centre.
I had scheduled a boat trip to Scilly's most scenic Isle – Tresco – and left the hour's wait on St Mary's up to fate. And fate wanted coffee. So fate took me on a little exploration to Kavorna Cafe & Bistro. 
After a latte and a pastry, The Boy and I found the energy to ascend The Garrison (if you're trying to find it on a map, look for Star Castle) and take in the bird's eye view of the Isles from the gardens before rushing back down to our shuttle boat.
As the lack of photos would suggest, we ran in to one or two sweeping waves through the choppy waters but arrived on the isle of Tresco safe, sound and soaked roughly twenty minutes later.
the video really helps bring that to life.
After drying myself off under a hand-dryer (hashtag forever classy), we took a pristine walk through Tresco's Stepford-like south-western pathways and ended up at the doorstep of the Abbey Gardens less than thirty minutes later.
These seventeen-acre gardens were established by the nineteenth-century proprietor of the islands, Augustus Smith, and have since been opened to the public and designated 'Grade I' in the Register of Historic Parks and Gardens. Having just fallen in love with the Eden Project, I wasn't expecting to be bowled over by the gardens but was wooed within minutes. Unlike Eden, the gardens are completely open-air and were almost completely empty as we weaved through its many pockets. It is a picture-perfect storm of flowers and foliage from the Mediterranean, South America, South Africa, and Australasia that never quite seems to end.
Hours later, the sun decided to grace us with its temporary presence so we took the opportunity and set off for lunch back towards the quayside. This time heading as close to the edge of the water as possible. Unknowingly, the edge where a number of empty white sand beaches awaited us.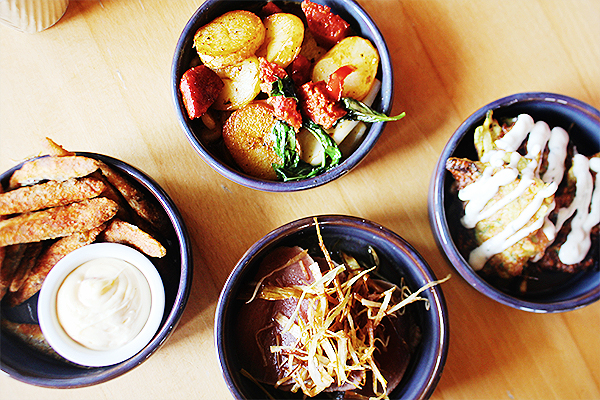 After a frolic, we took a breather at The (highly recommended) New Inn for lunch in a very special window seat overlooking the sea.
We started with a few "Little Things" – the best of which were the tuna carpaccio (with sesame dressing & crispy leek) and courgette fritter (served with lemon & thyme dressing) – before being presented with mains so large we could have easily shared them with the isle's entire population. Nonetheless, I powered through my West country pork belly (with savoy cabbage, bacon, black pudding, mash & cider jus) in true YOLO style while The Boy mastered a large plate of beer-battered fillet of cod with fresh peas, tartare sauce, and hand-cut chips so enormous they were genuinely longer than my hand.
Before we knew it, it was time to catch our shuttle boat back to St Mary's and wrap the day's outing with a walk around Porthcressa (look out for the adult-sized hilltop playground!) before hopping on the Scillonian for a sunset sail to Penzance.
The weather may not have been on our side, but the Isles surely were. I cannot wait to spend more time getting to know them as the years go by…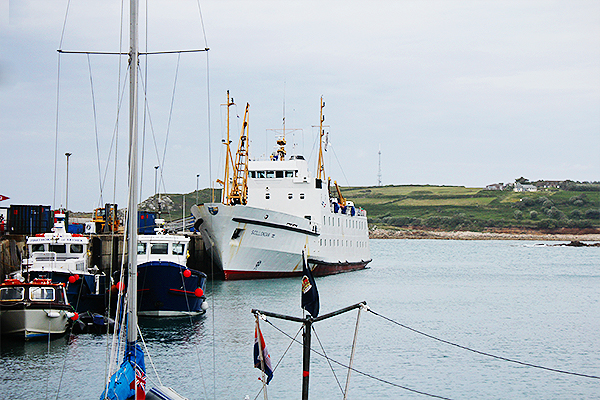 Useful Information:
– Fly to St Mary's with Skybus year round from Newquay and Land's End Airports and between March and October from Exeter Airport. Prices start from £140 return from Land's End Airport.
– From Spring through to late Autumn, The Scillonian lll Passenger Ferry sails up to 7 days a week between Penzance and St Mary's. Prices start from £90 return.
To book your journey visit www.islesofscilly-travel.co.uk or call 01736 334220.