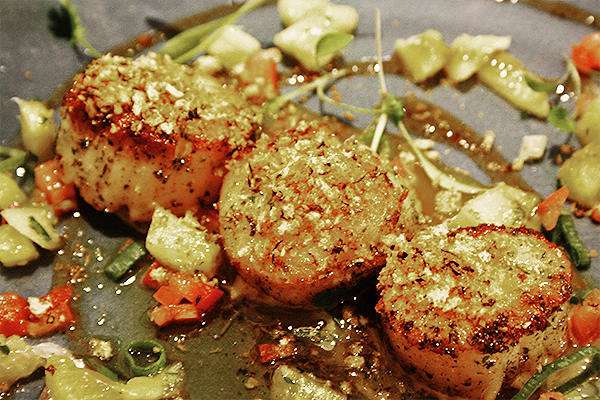 It wouldn't seem fair to mooch into Notting Hill Carnival weekend without paying due respect to my new foodie favourite in the area, Cottons.
Not too long ago, my brother (South Londoner) and I (North Londoner) headed to the restaurant for a "meet in the middle" catch up with no idea what to expect beyond the digital menu's suggestion of intriguing flavour pairing.
Within minutes, we found the restaurant could not be judged on appearances; Cotton's isn't all that visually refined (almost coming across as a local Chinese restaurant with Caribbean knick-knacks) but the staff and food are equally incredible.
While my brother explored their Jamaican and Trinidadian beer selection, I accepted our host's surprise cocktail suggestion – a flavourful mix of rum, bourbon, flambeed orange, and a few more difficult to place ingredients – with pure delight.
There was not a single dish on the menu we didn't want to try, but we retrained our budgets and waistlines to the seared scallops (with passionfruit & lime infusion and pineapple & chilli salsa), salt & pimiento squid (with coriander, lemongrass, lime and green chilli dressing), the Trinidadian grilled Red Mullet (in Chadon beni garlic butter and best eaten by hand!), and curried crab and cornmeal dumplings – a dish so flavourful and unique I feel it could convert anyone to Creole cooking.
(Though its addition would have made me immobile, I have bookmarked Cotton's crayfish mac and cheese for a swift return visit.)
I ordered a My Fair Lady (fruit infused Wray & Nephew, sparkling wine, and crushed guava with summer fruit) before the arrival of our iced peanut butter parfait with coconut marshmallow and baked mango cheesecake (with cream, guava sorbet, and passionfruit honey spiced granola) and savoured each taste as long as possible.
It is frill-free but fantastic. A perfect addition to your Carnival adventures.