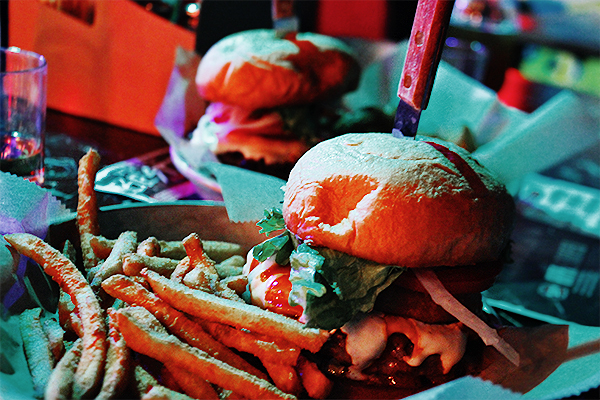 Before I delve into all that Grand Rapids had to offer, I must introduce you to the best burger in America.
I know. I was as dubious as you, "Mr. Michigan CAN'T have the best burger in America?!", are. Alas, Stella's Lounge pulled it out of the bag.
The restaurant-cum-whiskey bar-cum-retro arcade had their half-pound stuffed patties knighted "best burgers in America" by the court of GQ a few short years ago and I refused to pass through the city without pursuing a taste test of my very own.
The truth? The Buffalo (a blue cheese & bacon-stuffed burger served with Stella's buffalo hot wing sauce and celery mayo in brioche) is the dirtiest dirty burger I've ever laid lip on and, as its now a 11+ hour transatlantic crossing away, a complete personal travesty.
Don't try it without chronic fries (crispy & spicy ay-eff), Angel's Envy Rye (the finish is outstanding), and a few solid hours of Mortal Kombat.
I actually enjoyed all the aforementioned so much I dragged my travel-weary ass back on a layover between Traverse City and Minneapolis. This time for their veggie/vegan options and weekly Gong Show karaoke. Highlights included the Ted Avocado Nugents (avo beer-battered in Perrin Double IPA and served with Asian slaw & spicy avocado ranch dipping sauce) and performances from every American Idol reject West of New York City.
With over 250 whiskies (some of which I've searched bars for worldwide), Ms. Pacman, Q*bert, and the best burgers in America (at least in personal & GQ experience), Stella's can't be missed.