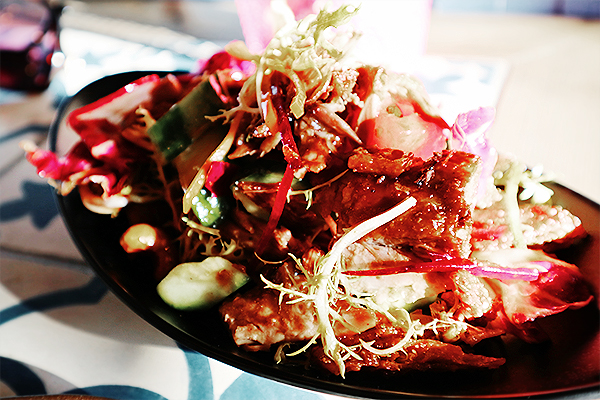 There aren't many things that can drag me out my negligee and into London's bitter chill on a Sunday, but Tootoomoo's Bottomless Brunch managed to do just that.
In fact, I hauled myself across the river in anticipation of unlimited pan-asian feasting.
Real unlimited. Not asterisked unlimited. Over the weekend, Tootoomoo's branches offer a bottomless brunch with nothing excluded from the menu. Not cocktails, not sashimi…all inclusive.
It was a dream come true in a city overflowing with bottomless syrupy-sweet 'champagne' brunches and sub-par eggs on breads.
At their Lilliputian Islington branch, I took advantage of their Malaysian/Chinese/Japanese/Thai/Vietnamese fusion without reservation; crispy hoisin duck rolls, Shichimi squid, Hamachi sashimi (with kizami wasabi), soft shell crab Maki (with gari, wasabi & soy), duck & watermelon salad, et al.
Though there were a number of authentic-looking noodle and curry dishes available, we couldn't fathom a single plate more than the 'nibbles' we ordered 'to start'. By the time two or three (or four, ahem) of their killer reposado gold Margaritas get down you, a mock liquid diet of natural frozen yogurt (with unnatural but tequila-demanded Oreo pieces) is about as much as you can handle.
And perhaps an Elderflower Tootoomoo (gin, sparkling elderflower & fresh mint).
If you're looking for a good time and better-than-good brunching, Tootoomoo's got you.