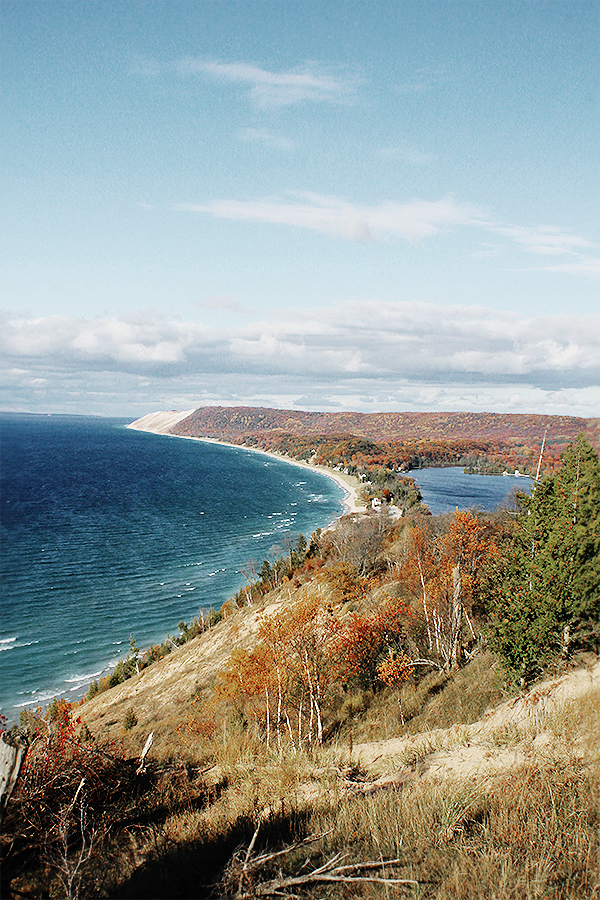 If I had to recommend only one destination in the Great Lakes, Traverse City would be it.
It didn't take me long to really Traverse City is as Great as The Lakes gets; a wonderful surprise, really, as it was the stop I was least excited for in my Lela Takes The Lakes adventures.
Before my quasi road trip made space for it, Northern Michigan simply couldn't seduce its way to becoming a bucket list contender.
Isn't it funny how fast vineyards, beaches, and dirty banh mi fries can change your mind?
What to do in Traverse City
Wine Tour –
Traverse City won the geographic wine lottery by being situated atop the 45th parallel (just like Burgundy & Bordeaux) and – after locals realised the cooling effect of Lake Michigan made for a perfect Riesling womb – is now celebrated as the Wine Country of the Midwest.
There are an abundance of wine tasting tours available between Old Mission and Leelanau Peninsulas, but a few of my personal favourites (if we're looking at taxied or private tours) were Black Star Farms (the 2013 Arcturos Cabernet Franc is my current favourite wine of its price point in the entire world), 45 North (don't leave without trying the 2015 Pinot Gris or, for special occasions, their Ice Wine Riesling), Mari Vineyards (they're a bit too young to have anything mindblowing, but their potential is huge & views unparalleled), and Brys Estate. Though all of the vineyards/wineries were stunning in their individual right, the latter was one of the most naturally beautiful places I have ever had the fortune to visit. Order/stock up on Brys Estate Merlot (of any year) and thank me later.
The Sleeping Bear Dunes –
The Sleeping Bear Dunes National Lakeshore is quite literally the Most Beautiful Place in America (Good Morning America and I name it so). Though the drive alone will takes your breath away, Sleeping Bear boasts fantastical sights around every corner; expansive sand dunes, beaches, shipwrecks, islands, hiking-perfect forests, et al. In the right season it would be a camping goals epitomised.
State Theatre –
This adorable non-profit cinema shows indie films and classics in a restored, retro space. During our stay, we chose to stop by and watch Mr. Smith Goes to Washington in the bittersweet approach to the election. It cost a quarter. 25 cents. About 20p.* My mind was blown.
*I spent a small fortune at the concessions, natch. #supportlocalbusiness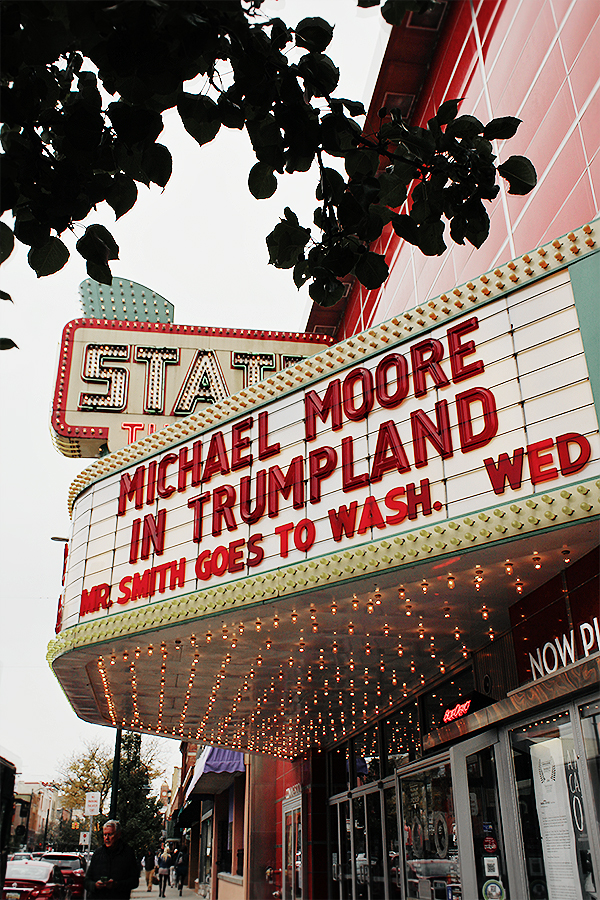 Shooting –
There was something so incredibly America about Traverse City that we felt it was the right place to visit a shooting range for the first time. First and last, that is. We went to Shooter's (a 15 minute drive from the centre of town), trembled at the sight of an AK-47, realised guns are actually rather terrifying, wasted about 10 bullets until I hit a bullseye, got my Tomb Raider dreams out the way, and left feeling we had quite literally exploded our money away.
I'm glad I had the experience – it almost felt like a right of passage for my American half – but could never imagine the desire to hold or fire a gun ever again.
Celebrate (eat your way through) the Cherry Capital –
In due respect to Traverse's success as the largest cherry growing region in the world, Cherry Republic stands as a working homage and provider of your every cherry-loving need. And then some. They genuinely have over 170 cherry-appropriating products (from hot cherry salsa to cherry wine) and staff that seem to know everything and every product. It is an adorable, passionate business and one it would be a real shame to miss out on as a tourist.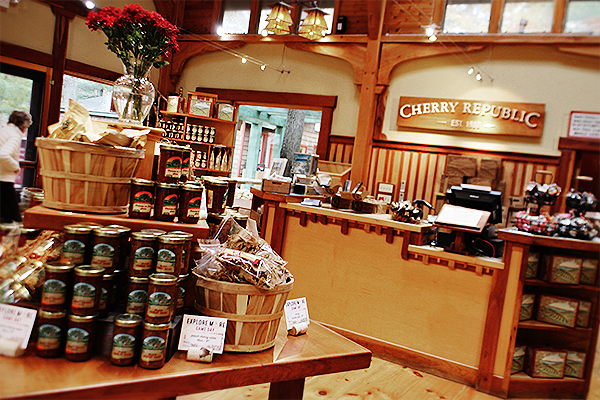 Mission Point Lighthouse –
This lighthouse – at the tip of the Old Mission Peninsula – is a very unique local icon. Though it was decommissioned in 1933, Mission Point Lighthouse now functions as an exploratory historical site and even employs lucky applicants to become Lighthouse Keepers (caring for and living at the property) from May to September! Otherwise, it is a beautiful spot to walk along the beach, visit a historic Hessler Log Cabin, picnic, birdwatch, and watch the sunset.
Eat. But that deserves a section of its very own…
Where to eat in Traverse City
Grand Traverse Pie Company –
This kitschy pie-purveyor actually does fantastic savouries. Their half grilled cheese (cheddar cheese, Havarti cheese, cherrywood smoked bacon & tomato on rustic sourdough bread) served with tomato soup is the comfort food of my childhood dream. Not forgetting the warm apple pie (just avoid the bizarrely saccharine Splenda alternatives).
Poppycocks –
Hands-down my favourite meal in Michigan. This 'New American' restaurant (conveniently located on Front Street) is smart, sassy, and serves food & cocktails so flawless they can get away with it. Highlights included the Banh Mi Dirty Fries (five spice-rubbed pork belly, pickled daikon & carrot, fresh jalapeno, cucumber, cilantro, and Sriracha aioli on sweet potato fries) and the Fawaffle (chickpea quinoa falafel waffle, avocado heirloom cherry tomato salad, arugula, lemon sumac dressing and poblano cucumber crema).
Sparks BBQ –
Irrefutable winner of best barbecue in The Lakes. Wood-smoked, melt in the mouth goodness a la pulled pork shoulder burgers and a 'P.B.L.T' (slow-smoked sliced pork belly topped with arugula, tomato & garlic mayo and served on Zydeco Bread).
Don's Drive In –
Don's carhop has been serving Traverse City since 1958 and does authentic retro burgers, hand-dipped milkshakes, and malts like a single day hasn't passed since. The food isn't anything to write home about but the atmosphere (which I can only imagine ignites in the Summer) offers an easy win over any of the surrounding fast food chains.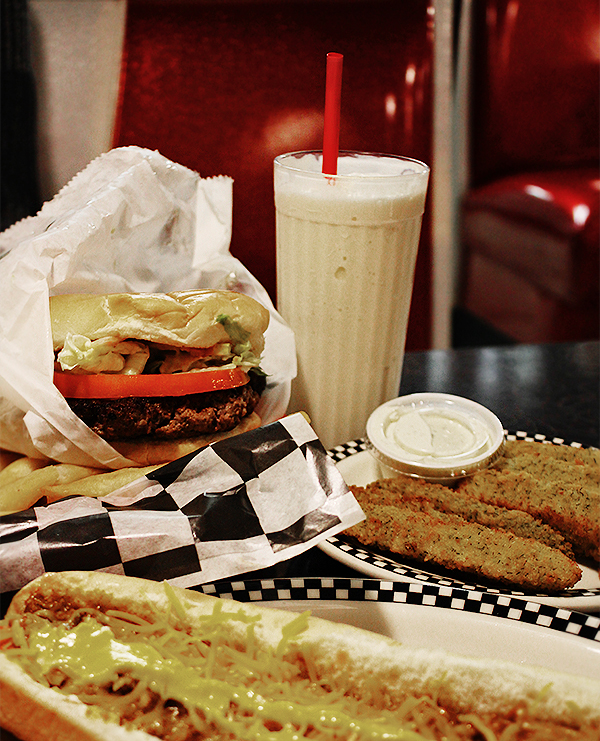 Art's Tavern –
Near both Sleeping Bear and Cherry Republic's flagship store, Art's Tavern serves up food exceedingly better than its cozy-cluttered pub space would suggest. Cash only, but worth a special withdrawal for the gargantuan salads and tater tots.
Where to stay in Traverse City
I stayed in three different hotels during my week in Traverse City and loved them all for different reasons:
Cherry Tree Inn and Suites –
Though it was a little further afield from 'the centre' than the other two, it was right on the East Grand Traverse Bay beach and my irrefutable favourite.
The room (in-room two person jacuzzi, King pillow‐top Sleigh Bed, fireplace, balcony, kitchenette, and TVs in the bathroom and living area) was perfect even without the extras (Sony Playstation 2, docking stations, BeeKind toiletries, etc), and that's before Cherry Tree's extra facilities are considered. Additionally, they offer a complimentary (and generous) hot breakfast, shuttle service, and indoor pool, Spa, and sauna access.
I could have stayed the entire week…year, even.
Park Place Hotel –
Just one block behind Front Street, Park Place is especially convenient for short stays or visitors without cars as well as being rather lovely overall. The lack of breakfast service was a slight disappointment but does mean prices are significantly cheaper for a downtown hotel.
Grand Beach Hotel –
A casual beachside option back towards Cherry Tree's location and offerings with beachcomber appeal. The staff here were especially friendly and the seaside-themed interiors suggested it would also be perfect for a family break.
Nonetheless – no matter where your bed is located – Traverse City will feel like home.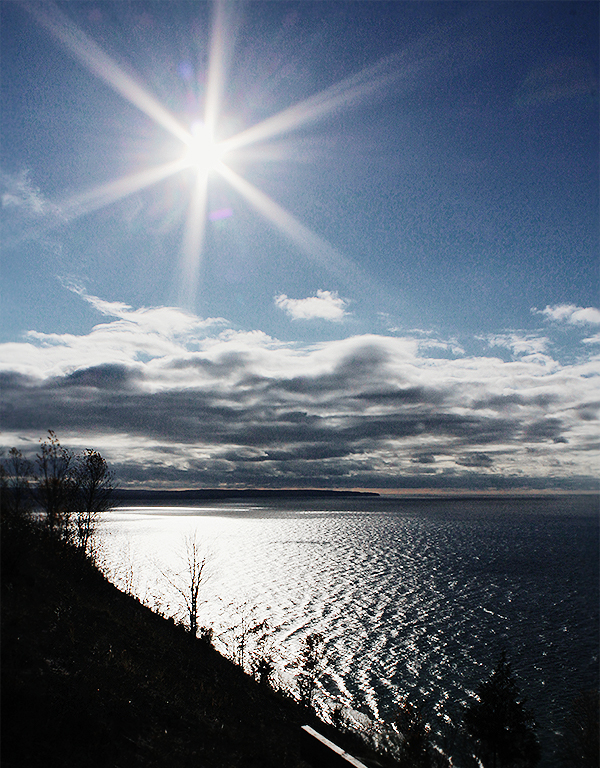 For more information and to start planning your visit to the USA, visit www.VisitTheUSA.co.uk.