The 90s Brunch was a birthday dream come true.
A dream that included finally living out my lifelong dream of being Cher from Clueless for the day (I have even filmed a 'Get Ready With Me' portion in the accompanying vlog for your viewing pleasure!).
The full youth-defying and decade-celebrating day consisted of showing up at Fu Manchu (each 90s brunch has a secret location), power-houring the unlimited Prosecco, recalling every single word to "The Fresh Prince of Bel-Air", dancing myself silly, performing impromptu lip-syncs of Nirvana & Oasis, watching pro hula hoopers wiggle to 90s boy bands, and 'brunching' on a 3-course selection of Asian-inspired nibbles (the bao-bunned Eggs Benedict and doughnuts were the heroes to a mediocre noodle-based zero).
If I had the liver for it, I would 90s Brunch every weekend.
Tickets are £35 and includes entry, a 3 course meal, bottomless cocktails for one hour (12-1pm) and all
activities and entertainment (as seen in the video, above!)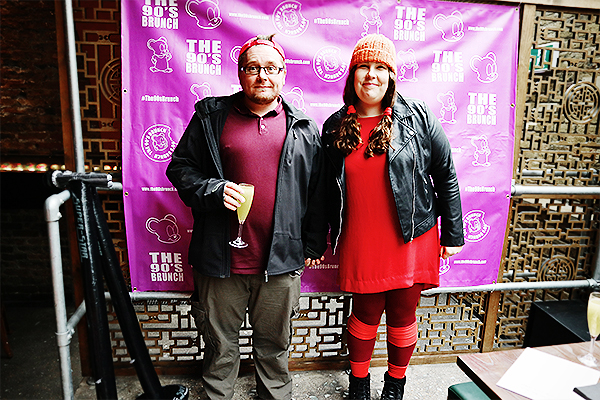 Thank you to my beloved Vicki for being my birthday heroine and for sharing so many of her video clips with me to make the video! It would have been all food shots without her hahaha.
Get Ready With Me Products:
MAC Rubenesque Paint Pot
Rodial Eye Sculpt
Avon Glimmerstick Eyeliner in Saturn Grey
Rodial Smokey Eye Pen in Black
Korres Wild Rose CC Cream
Rimmel Wake Me Up Concealer in 010 Ivory
Freedom Pro Studio Strobe Cream
Madame La La Bronzing Ball
Real Techniques Blush brush
Nude By Nature Powder Foundation in W2 Ivory
Nude By Nature brush, Rodial Contour Powder
MUA lip liner in Caramel Nougat
Clinique Paprika lipstick, Benefit They're Real tinted primer
Revlon Ultimate ALl in One mascara
Lullabellz Large Wavy 3/4 Hair Piece Extensions (in #613 Pure Blonde)