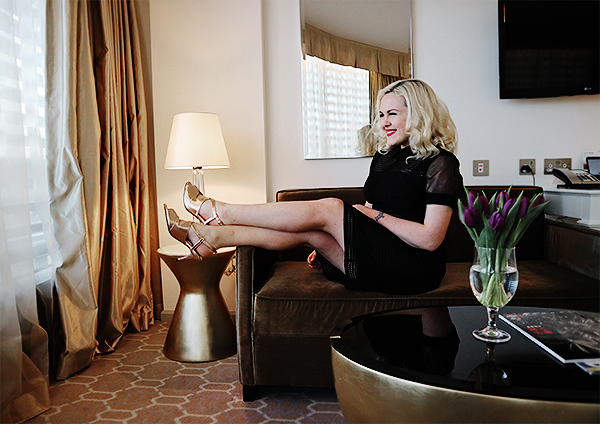 There is little I love more than a staycation and – as a woman who takes very little time for herself – I have felt more than a little overdue one from the second the clock struck 2017.
When an event celebrating International Women's Day presented an opportunity to stay in a Grade II listed building I have walked past for over ten years, I knew I had to spend a night in its modern interior transformation – Dorsett Shepherds Bush.
(Trigger warning: a super chic hotel lies within.)
The Dorsett is the epitome of charm and class with suites so sweet you'll want to redirect your mail.
My room – an incredibly spacious suite with floor to ceiling windows – could not have provided a better home from home. After checking in I spent the afternoon working (with complimentary Wi-Fi speeds faster than my own), lounging (from cloud-replicating King-sized bed to desk to sumptuous sofa), eating (their fresh "welcome fruit" got me through hours of hard graft), and feeling so truly divine that I decided to come out publicly for the first time in my life.
Amazing what some sexy interior design can do for a woman, eh?
To celebrate, my date for the evening joined me in the hotel's centralised Jin Bar (金) for champagne while pianist seduced us (and an inspiring group of professional women celebrating International Women's Day) on the ivories.
With an eight-floor skylight designed to illuminate an open-air view to all floors above us and the most lavishly textured interiors around us, the evening was a welcome assault on our every sense.
Before long, it was time to click-clack over to Dorsett's focal brasserie – Pictures – for our dinner reservation.
Shepherds Bush has always been one of the last places I would think of when recommending restaurants in London so I was keen to explore their pricier-than-the-postcode menu (all of which is made in house using fresh ingredients from carefully selected suppliers).
Postcode aside, Pictures delivered. Their smoked beetroot & goats cheese (with honeyed walnuts and basil oil), Irish Ox Cheeks (braised with smoked potato mash, oxtail croquettes, and Winter vegetables) and Chocolate Marquise (super rich dark chocolate mousse, blood organge gel, and pistachio ice cream that had to be shared after the aforementioned) still has my mouth watering.
Post-Bed, Bath and Beyond, I skipped through the morning sun to a knock and the door and proceeded to enjoy breakfast in bed (a delicious blend of Full English and continental gluttony) with my laptop and 42 inches of LCD news.
I have a week in "limbo" next week between leaving my apartment & my two-month trip to America and am genuinely thinking about becoming a Dorsett recluse for its duration. It is simply that good.
What I Wore (courtesy of JD Williams):
Gold heels from Heavenly Soles
Sports Mesh Pencil Dress from Lovedrobe