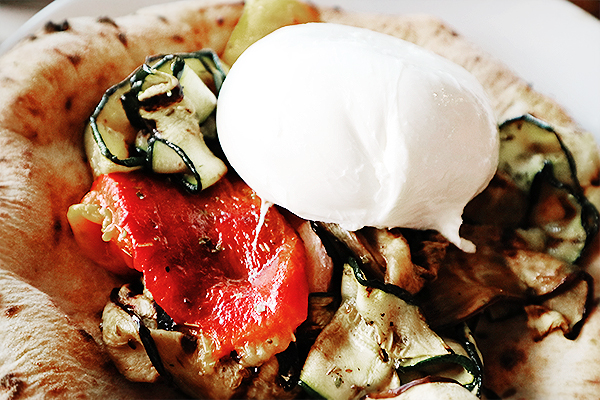 Sunshine is to London what I am to sitting still.
Even rarer? Having my camera in tow on a sun-soaked day where my schedule allows me to sit still for once.
With Rossopomodoro right around the corner as the stars aligned, a spontaneous lunch feast seemed too timely to pass up.
I had never been to any of the Italian chain's British outposts, but my discerning Turin-raised confidante had sung their praises enough to promise much more than wannabe pizzas.
Clinking a duo of Aperol Spritz-filled glasses over menus far larger than expected, we settled on a selection of dishes to make up my perfect Italian meal. To start, my undying love (Burrata) served on a whole-wheat focaccia with sliced tomatoes & grilled vegetables alongside a selection of Napolitan street food; Calamari e Zucchine (fried calamari & fried courgettes zeppole with a lemon dressing) and Arancini (rice balls with tomato, mozzarella, beef, peas and basil).
I was impressed, to say the least. Making the choice for all their ingredients to come from Campania-based
producers may up the costs for them, but the consumer prices are as affordable as food of this quality gets.
As each restaurant's expert Neapolitan pizzaiuoli prepare their dough daily (slow-matured to make the pizzas light, full of flavour and easy to digest), we couldn't leave without trying one so paired a gargantuan salad with The "Massese" – plum tomato sauce, mozzarella, spicy spianata salami and basil atop the aforementioned dough.
For a woman that only learned to like pizza in the last few years, it is endorsement and a half to say I'm already looking forward to the next…